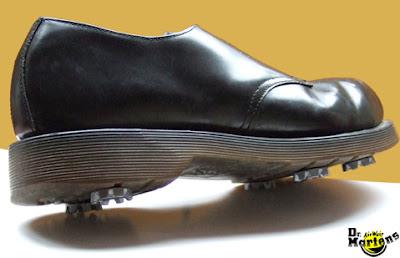 We are trying to persuade Dr Martens to work with us to create a golf shoe based upon their iconic British designs.
They still make hand-made shoes in their UK factory located in Northampton.
I used to wear DM's in art college. Found them incredibly comfortable on the long walk back home through the streets of Coventry after a heavy night in the students union bar.
Here is a pic of my black Dr Martens, with a modified sole enabling me to screw-in a set of soft spikes for golf.
If you think it's a good idea, please let Dr Martens and / or Golf Refugees know.
Would you wear a pair of Dr Martens golf shoes?
-------------------------------------------------------------------------------