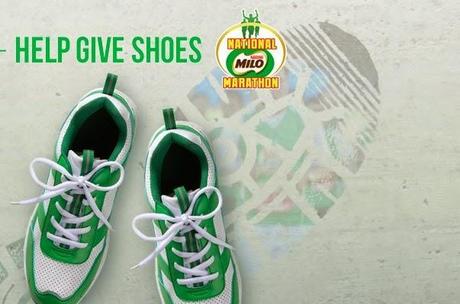 The National MILO® Marathon is the biggest running event in the country, with an immense popularity that has attracted runners from all age groups to participate, including children. However, a lot of driven young runners don't have shoes. Imagine seeing a little boy run kilometer after kilometer of rough cement barefooted. This moving scene inspired MILO® to make this year's run more meaningful, by giving out running shoes to deserving public school children.
The root of this advocacy lies in MILO®'s belief that they are not just providing children with running shoes, but are giving them something that they can wear to school, for sports and other activities. It's definitely a step to help them reach their true potential and be the best that they can be. In 2010, the National MILO® Marathon provided 4,200 running shoes to public school children nationwide with the "Help Give Shoes" advocacy. Since its conception, MILO has donated a total of 34,200 pairs of shoes across the country.
The running event continues the advocacy with an aim to donate 160 pairs of running shoes to 100 students in 100 schools in select Typhoon Yolanda-hit cities —amounting to 16,000 more pairs of shoes and dreams fulfilled. In the same way that Nestle has been a part of Filipinos lives throughout generations, the National MILO Marathon invites Filipinos to be part of the cause to help make the shoe-less child today a champion tomorrow.
Php 10 from every registration fee will be allotted to the advocacy. MILO will then match the proceeds and work with the Department of Education to select 16,000 public school student beneficiaries in Tacloban, Ormoc, and Eastern Samar cities. MILO aims to reach its 50,000 advocacy mark by the end of the 38th marathon season.