No doubt this is a painfully stressful time of year. 
For my husband and I it seems that every December without fail something goes wrong and it ends up taking every last cent. Sometimes the bad things come in threes; like the car needing new breaks, the heater breaking down or that credit card bill getting higher and higher. 
This year is no different. I won't go into the gory details, but it has not been easy trying to stretch every last penny. Let's just say, times are certainly tough and the tension levels are flying high!
However, we were extremely lucky here in the Washington, DC area that Hurricane Sandy did not hit us like it did New York and along other parts of the East Coast. It's pretty unbelievable that damage that it caused and the pain and suffering it has inflicted on so many lives. 
Recently, I came across the Holiday Hurricane Rebound initiative by Touchstone Crystal Division of Swarovski to support its mompreneurs.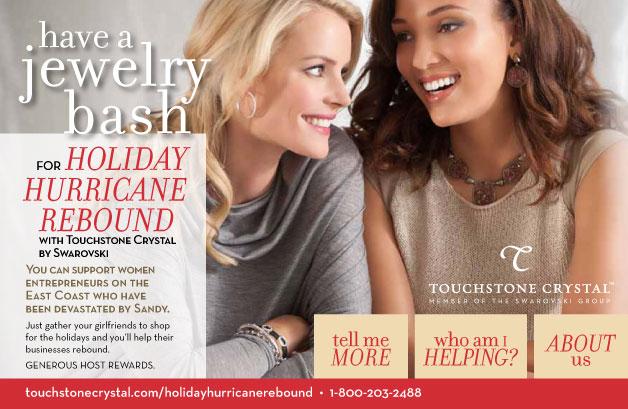 Why?
Because more than 250 of the independent consultants, all women and moms who work with the brand as a means of income to support their families have been directly affected by Sandy. Many have not been able to work and make money during the holiday season due to the loss of basic necessities such as power and heat and in some cases even losing their homes.
It really makes my problems look tiny in comparison. And having friends and acquaintances who work with this brand and other direct sales outlets, I know just how important it is to step up the sales game during this time of year.
But we can help! You don't have to make a donation or anything like that. No, no. 
In order to make it possible for these women to continue to earn income during the festive season, Touchstone Crystal put in place a campaign to assist their consultants partner with other women around the country to host holiday parties online. 

It's Easy:
1.Call 1-800-203-2488 or email [email protected] and we'll connect you with a Touchstone Crystal independent sales Consultant living and working in an area devastated by Hurricane Sandy.
2.She'll set up an online jewelry party for you, so you can gather orders from your friends, neighbors, co-workers and family. Half the jewelry line is under $50… perfect for holiday shopping.
3.Submit your party order soon for your holiday fashion shopping, and for profits to be assigned to your Consultant in 2012.
4.To thank you for being a 'host', we'll send you FREE jewelry of your choice. Check out the details.

So if you still have shopping left to do, why not help a mama out and host a par-tay? 
As an incentive they will offer double jewelry reward credits to those hosting. And as you can see from #2, half of the jewelry line is under $50. 
I like. I like that A LOT!
Facebook
 |
Twitter
| #Touchstone
*I was offered an item from the collection. No other compensation given*