My two sisters-in-law are big fans of Hello Kitty so when I came across some Hello Kitty Ang Bao/Pow when I was last in Singapore, I bought some for them.  I bought some for myself too and with these, I decided to make a lantern.
It is very common for Asian Chinese people to make Ang Bao/Pow Lanterns to decorate the house and to put up other wall decorations which I mentioned on my previous post.  The more traditional ones will use a proper Ang Bao/Pow than the contemporary ones I am using now.  Nowadays, the designs of the Ang Bao/Pow follows popular trends.  You can get so many varieties of Ang Bao/Pow from square shapes to rectangular, from traditional to modern style of Ang Bao/Pow.  These are some of the examples: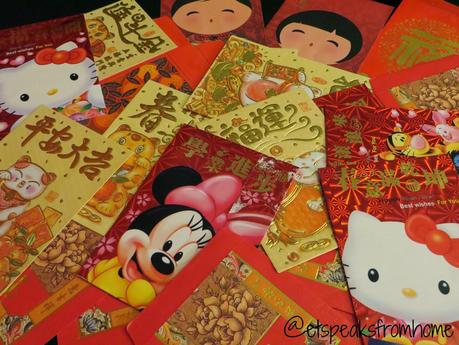 Don't they look cute!
So this is how you make the lantern, you need:
12 Ang Bao/Pow
Stapler
Scissors
String and Pin/Needle
Cards (optional)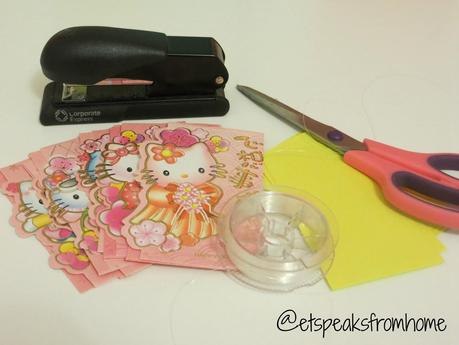 Of course, you can use any type of Ang Bao/Pow to make this type of lantern. If your Ang Bao/Pow is quite thin and soft, insert the cards to keep the shape of the Ang Bao/Pow.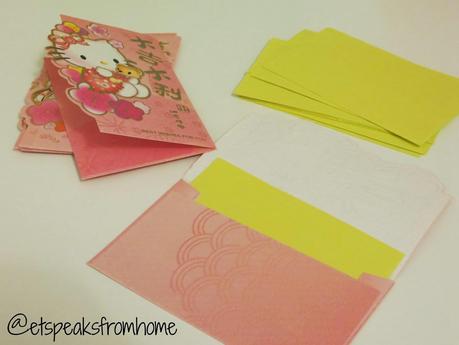 The string can be any color but obviously it would look matching if it was the same color as the Ang Bao/Pow.  If you can find/get a Chinese Auspicious Knot or red tassel to add on, it will look great!  As I had limited resources, I can only show you what I had.  You could also check out one of the fantastic websites where she shows you more Chinese New Year lanterns: http://chinesenewyearlanterns.blogspot.co.uk/
These are the step-by-step instructions:
1) Slightly pinch the middle of both long ends for easy marking.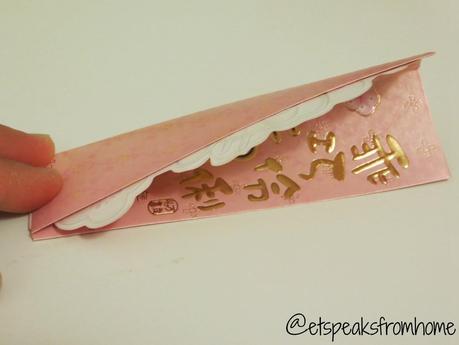 2) Fold all four corners as shown.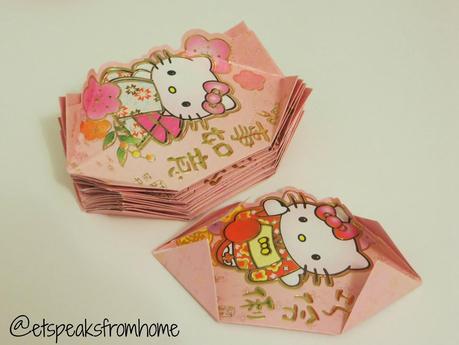 3) Staple six Ang Bao/Pow for the top and the bottom of the lantern.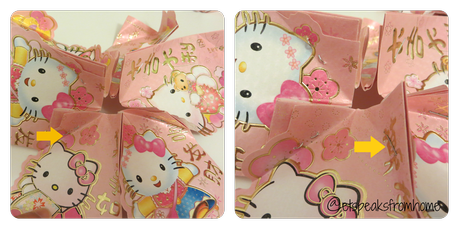 4) Now join top and bottom using a staple.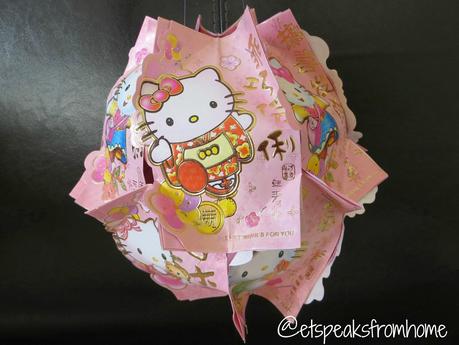 5) Use a pin/needle to thread a hole for the string.  I used a transparent string in this case.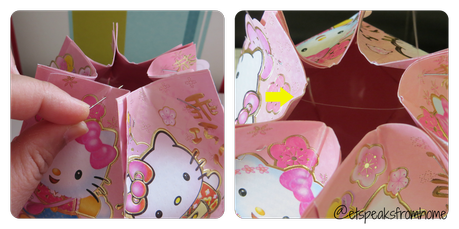 Hope you like it.
Do take a look at my past posts if you fancy making them:
Chinese Lantern
Fish Lantern