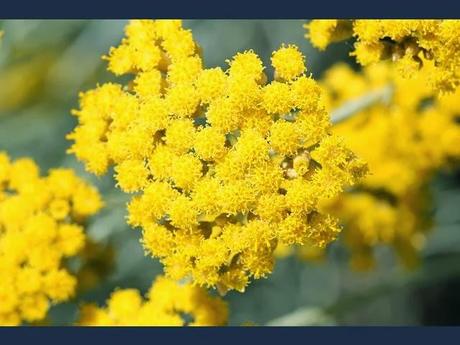 Image by Aphotoflora
Immortelle (the French name of this flower) is a recent discover I made. It is a golden plant which grows in rocky or sandy areas in the Mediterranean zone and has been used for centuries as a natural remedy for cosmetic issues and 
reliefing pain
. I've made its acquaintance by getting a bottle of
'Immortelle' water
, chosen for its calming and soothing effects on the skin. 
I use floral waters as a tonic and this seemed the perfect choice since it has naturally an acid PH (4), so I didn't think it twice. Once I opened the bottle I've been 'assaulted' by a strong herbal smell, so that I thought I was dealing with an expired product. Caught by the deception I came back to Aroma-Zone's website to check out the description of the odor it should have had and....surprise! It was the perfect synthesis of what my nose perceived: an intense mix of hay and honey...exactly! Once I figured out there weren't any problems with the quality of my floral water, I bravely started to use it :D 
I've been so impressed by this humble flower, that's why I wanted to find out more about it. Among its multiple qualities (I can't confirm them all since I've not experienced them all), I feel satisfied about highlighting the few ones I've been observing worked on myself. After a couple of days of use, I noticed a decrease of the perpetual redness I have on my chin. After one week, my under-the-skin-tiny-pimples on the chin disappeared and my madly-sensitive-reactive-skin seemed to have found its inner peace :) After 2 weeks of use, I'm still wondering why this flower is not yet a Celebrity
 in the cosmetic world. I know it's early to claim I'm dealing with a miracle plant, but when things work (mainly if they are so simple and natural) I feel the need to shout it out! 
So keep an eye on this golden marvel and stay tuned! 
Apart from its calming, soothing, anti inflammatory, cicatrisant, anti oxidant, anti septic and emollient properties, I read that it's also a powerful star in aromatherapy: it might help you to improve your mood, sleep and focus better. It also supports your consciousness and is a great aid during meditation to get in contact with your higher knowledge. Just one word: WOW! 
I love nature and I'm so grateful to her (yes, I believe nature is a woman :)