With her wild imagination, Heidi Gardner has a passion for cult classic thriller films like The Exorcist and The Shining, and it shows in her original and creative jewelry. As a young painter, her artwork displayed both life and death with naked skeletal beings and deformed creatures. With her artistic heroes being Otto Dix, Alfred Kubin and Salvador Dali, it's no wonder she has cornered the market for dark and haunting jewelry designs.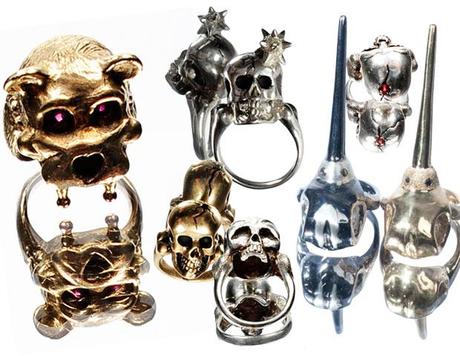 via Elle
Originally a classically trained ballet dancer, Gardner specializes in ghoulish yet gorgeous jewelry creations made of heavy metals. Her pieces can be described as spooky and macabre because they are spikes, daggers and skulls. Breaking out of the ballet mold, she went easily into painting but wanted a way to be creative for others, so that they could enjoy her creativity more easily. She looks to jewelry as a way to make people happy. She describes her own pieces as "graceful, balanced, symmetrical, ethereal, elaborately detailed, and with a powerful narrative."
Her fall 2013 collection is focused on bodies and their forms, as her inspiration was her appreciation of the inner strength that women possess. She says, "It was about being a warrior and unleashing one's inner beast." She claims to find comfort and further inspiration in the darker side of life and that her designs have a touch of a morbid sense of humor. People react both positively and negatively to death, but it conjures up a reaction and makes them feel something. Her jewelry line is created so that people in fact do feel that something when they see it. Her spring 2014 collection will be a bit different, with the essence of the ocean. Those pieces include 18k gold plated shark's teeth and spikey silver starfish.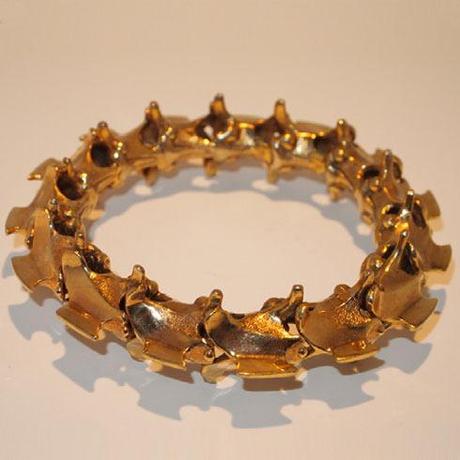 Heidi Gardner "Spinal Bangle" Gold Plated Brass
The "Amour D'Amour" collection includes rings, pendants and cuffs. Some of the unusual designs include a sculptural rendering of a woman's pelvis with diamonds sapphires and rubies. You can wear this unusual piece in a pendant or a cuff. The "Spinal" collection resembles the vertebrae of a backbone. You can wear this design in a necklace or a bangle with different designs of each.
The "Creature Couture" line consists of buffalo and hummingbird skeletal earrings and rings, pendants that resemble a silver bullet and a killer lipstick, a teddy bear ring with fangs, and ethereal skulls with eyes that are rubies. There is another ring with a cracked skull that contains a diamond in the crack, and a ring called "Macy" which is a skull with a mace in the top of it. This line also includes a bear claw pendant in brass or silver and a "sorry Charlie" pendant which is a skull with an ax in it.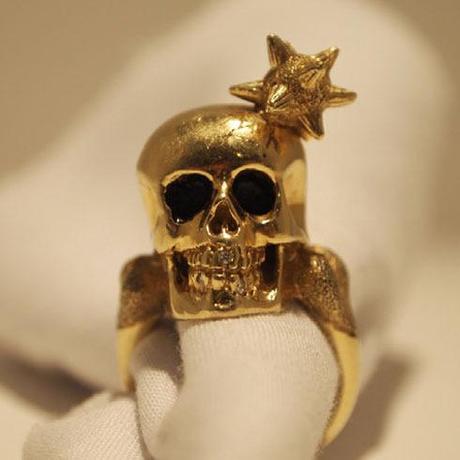 "Macy" Gold Plated Brass with White Diamond
All of her jewelry designs are characters that came about from her jewelry purgatory, an outer expression from her days of being a dark painter or even a hidden desire that she simply wanted to get out in the open. This is Gardner's way of giving everyone the opportunity to express themselves to society, giving them a voice to tell an intimate secret from deep within.
The Heidi Gardner collection runs from $90 up to $1,800. There are also one-of-a-kind pieces that run anywhere from $1,200 all the way up to $15,000. White Chalk and Odd in New York City both carry her line, and you can also find it online at AHAlife and HeidiGardnernyc.com.