As most of you know, I can't bake to save my life. But I was craving for scones... so I decided to make my own. LOL.
Anyway, I managed to get a recipe from the Steamy Kitchen website for blueberry scones. And because I didn't have all the recipes listed in the list, I improvised a little. Instead of using fresh blueberries, I substituted it with dried cranberries. Surprisingly, it turned out pretty well!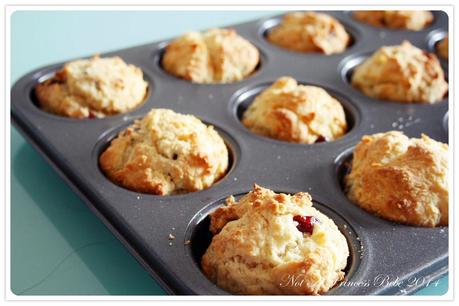 Golden and crunchy on the outside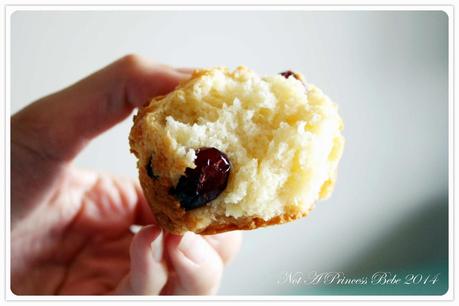 Soft and fluffy on the inside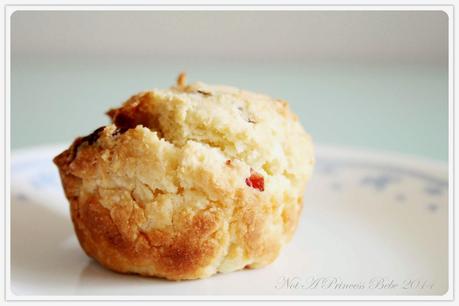 Yumssssss

For a first timer, I was pretty impressed with myself. LOL. I got to satisfy my cravings and my daughter got to enjoy some "healthier" homemade tea time snacks. 
So, here's my improvised recipe: 
3 cups of self raising flour3 tablespoons of raw organic sugar1/2 cup salted butter1 cup sour cream1 cup plain greek yogurt1/4 teaspoon vanilla extract1 cup of dried cranberries
Preheat oven to 180C
Mix all dry ingredients together. Cut in softened butter. Gently fold in sour cream, plain greek yogurt, vanilla extract and dried cranberries. Work dough until all is ingredient is somewhat evenly mixed. Scoop dough (should be a little smaller than palm size) onto lightly greased cupcake/muffin pan and bake for 30 minutes or until tops are golden brown.