Sourced from MGP and finished in Vosges Oak, the Heaven's Door Rye Whiskey brings something new to the same-old-same-oldness of the classic MGP rye we've come to know all too well – and almost too intimately. The finishing barrels come from the Vosges forest in eastern France where it borders with Germany and is more accurately known as Quercus Robur.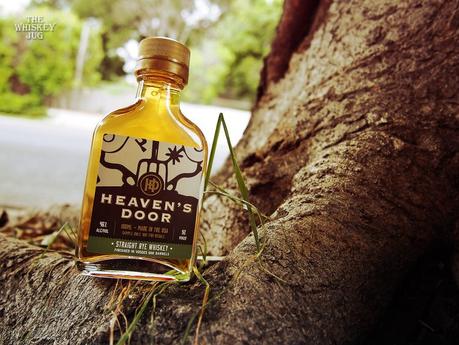 Quercus Robur is not a common whiskey oak, but a common wine oak. It has a wide loose grain and is favored by wine producers who don't plan on aging their wine long; its structure imparts the flavors, characters and tannins into the wine at a faster rate than oak like Petraea or Alba. Robur also imparts very little color and so it's often employed for white wines like Chardonnay.
An interesting choice for finishing a big rye like the MGP 95/5 in. Lets see if it paid off in the rye whiskey review below.
Heaven's Door Rye Whiskey Review: Details and Tasting Notes
Breaking with tradition, we finish our Straight Rye Whiskey in toasted oak cigar barrels, air-dried in the low-lying mountain region of Vosges, France. This proprietary finishing results in a smoother, more approachable rye with notes of orange peel, coriander, and spice.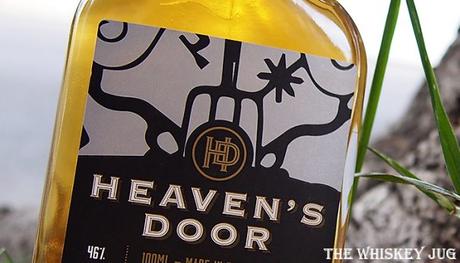 Details (price, mash bill, cask type, ABV, etc.)
Region: Indiana, USA
Distiller: MGP
Bottler: Heaven's Door
Mash Bill: 95% Rye, 5% Malted Barley
Cask: New Charred Oak, Toasted Vosges Oak
Age: NAS (4+ Years)
ABV: 46%
Price: $80*
Tasting Notes
EYE
Coppery amber
NOSE
Dilly spice, caramel, orange peel, chili powder, mango and a bit of leather and vanilla.
PALATE
Dilly spice, caramel, cocoa, roasted nuts, complex spice and a bit of vanilla and butterscotch.
FINISH
Long -> Spice, caramel, citrus peels and oak.
BALANCE, BODY & FEEL
Good sense of balance, medium body and a light syrupy feel.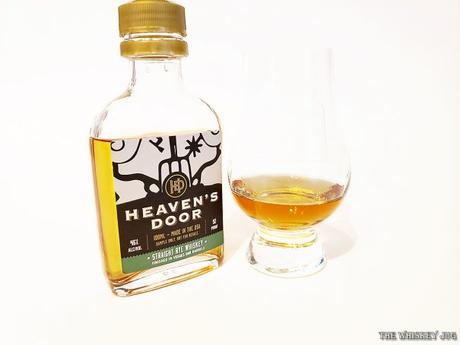 Heaven's Door Rye Whiskey Review: Overall and Score
Lightly oaked and spicy, this is an enjoyable whiskey. The aroma comes across like a standard MGP, but with a bit more spice; Palate comes through as MGP rye but with a bit more sweetness; Finish ends things with a long citrusy fade. Not a bad whiskey drinking experience.
The Heaven's Door Rye Whiskey is, for the most part, a profile we're all familiar with by now: that spicy dilly MGP rye. However, there's a bit of enhancement from the French Vosges Oak. It's not dramatic, it hasn't turned it into something different, but it is enough to make you say "well this is interesting".
I like when people do something more than just bottle MGP rye and call it a day. Charcoal filtering, blending, cask finishing, etc. So I commend them on that and I'm looking forward to seeing what their own whiskey tastes like someday.
SCORE: 85/100 (B)
*Disclosure: This Heaven's Door Rye Whiskey sample was graciously sent to me by the company for the purposes of this review. The views, opinions, and tasting notes are 100% my own.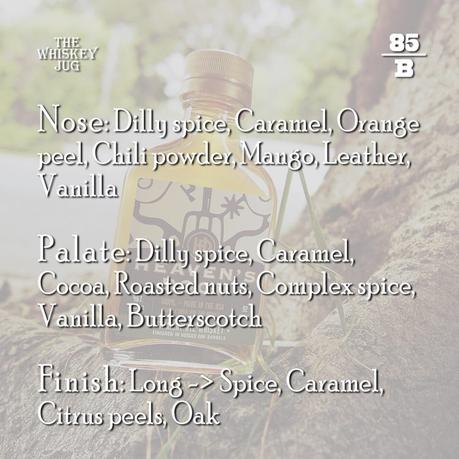 Heaven's Door Rye Whiskey Review
80
Nose -

85

Palate -

87

Finish -

87

Balance, Body & Feel -

85
86
Heaven's Door Rye Whiskey Review Summary
Heaven's Door Rye Whiskey is a decent rye whiskey. A nice take on the standard MGP profile we're all so familiar with at this point.
Sending
User Review
0

(

0

votes)
Comments Rating
0

(

0

reviews)

'''