Hearts For Hearts Girls are back! For those who don't remember, Hearts For Hearts Girls first debuted in 2010 from Playmates. They quickly gathered strength by winning various awards and gaining a strong fan base due to the amazing message behind them. The line was inspired by real girls from around the world and showcased their journeys to succeed and create a better life for everyone around them. The dolls, 14″ tall with pretty faces and inset eyes, strive to "change the world, one heart at a time."
I wish I could say I reviewed one here on the blog, but alas, I never got around to doing so, because in 2015, the line disappeared from toy aisles. At Toy Fair 2015, I could tell that while Playmates had discontinued the line, others who had worked on it were very passionate about the impact the Hearts For Hearts Girls doll line had and still could have on society.

Well, guess what? They're back! Hearts For Hearts Girls have been resurrected with the help of MPA Sales, the company that bought the license from Playmates. Better still, Hearts For Hearts Girls adorable look and positive ideals have stayed intact! Like the original line, for every sale, $1.00 is donated to World Vision, a global humanitarian organization focused on helping kids in need everywhere.
The holiday 2016 line is set to bring back the favorites of the original run, which includes Nahji, Consuelo, Dell and Rahel. Hearts For Hearts Girls mission continues to be "to empower little girls to become agents of change in their communities, their country and around the world." (By the way, where they say "little girls", I'm reading it as "anyone of any gender or age"!) Below are pictures and bios (from the press release) of the four dolls that are being relaunched this holiday season.
Nahji from India: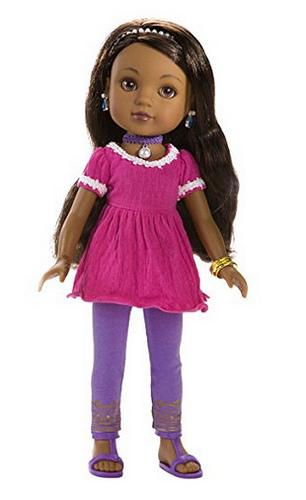 Background: Nahji is a girl who dreams of a better life. Nahji is a smart and brave ten year old girl from Assam, India. In the region where she lives, girls go to work and get married very early in their lives. Nahji is determined to get an education and find a way for her family and community to thrive. She studies very hard and tells other girls her age, "When you believe in yourself, when you are strong in your heart, then you can change the world around you for the better."
Dell from Kentucky: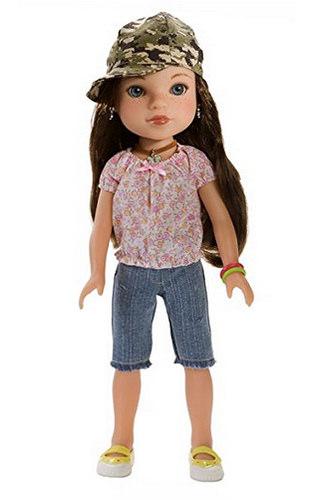 Background: Dell has a voice that can move mountains. Dell is a cheerful and talented ten year old girl living in Kentucky's Appalachian mountains. Her father was a coal miner, but when the mine closed her family had to move. Dell's father and brother make beautiful guitars in their new town. Dell and her mother still visit the old mining town bringing food and blankets to the people in need. She loves the beauty and the music she hears coming from the mountains. She has a calling in her heart to make a difference by writing and singing her own songs.
Rahel from Ethiopia: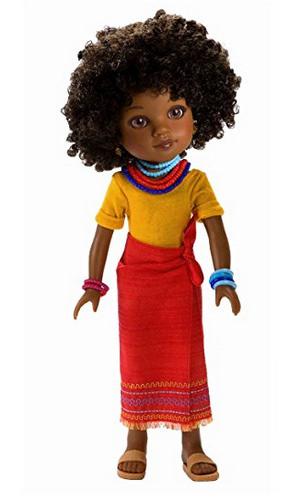 Background: Rahel is a girl with a giving heart. Rahel is a courageous ten year old girl living in Ethiopia. Lack of rain in their region dries up the crops making food scarce. When the rain finally comes, it brings mosquitoes that carry  malaria, a terrible disease that affects many of her neighbors. One stormy night, a supply truck overturns. Rahel and her family journey into the bushes to help  the driver  bring  the supplies back to their village. Rahel dreams of becoming a doctor so she can make a difference in her country when she grows up.
Consuelo from Mexico: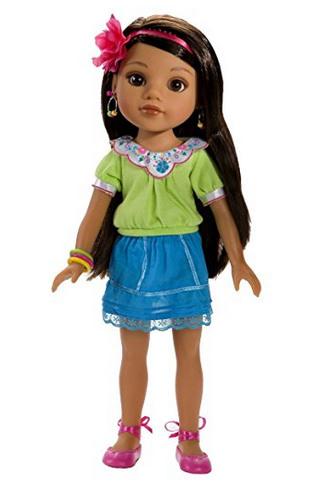 Background: Consuelo has a hunger to help others. Consuelo is a generous and imaginative ten year old girl from Mexico City, Mexico. She knows all about food as her parents own a bakery and everyone in the family helps out. There are many hungry children living on the streets in Mexico City and their yearning faces touch Consuelo's heart. With her mother's help, she created a restaurant in a back alley to feed these children, but is surprised when this becomes a challenge.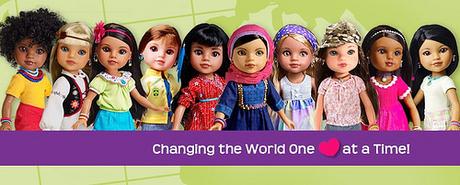 The four dolls you've just seen are available via Amazon. Currently, they are taking pre-orders with an estimated street date of November 20th, 2016. If all goes well, we'll hopefully be seeing more releases in the coming year! For more information on Hearts For Hearts Girls, 'like' them on Facebook and check out their website, set to launch in November.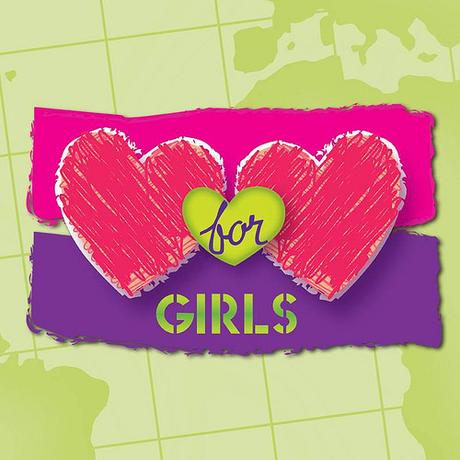 Did you miss Hearts For Hearts Girls? What do you think of their relaunch? Who's your favorite of the four girls who are re-emerging this holiday season? Share your thoughts in the comment area!!!
October 20, 2016. Tags: Introduction, MPA, review. Introductions & Reviews, Uncategorized.