"I participated in a Blogger Activation on behalf of Mom Central Consulting for Stonyfield. I received coupons to facilitate my shopping trip and a promotional item to thank me for participating."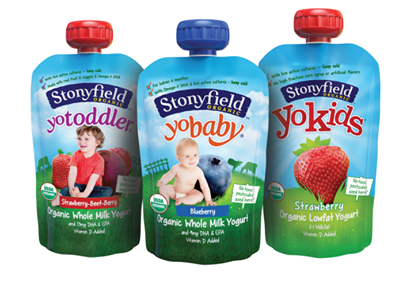 We have joked that we don't homeschool. We car school. We are a family on the go and we rarely spend a whole day at home.  This frequently results in kids, sitting in the back seat crying about being hungry while Handsome Hippie Hubby and I try to decide between making them suffer until we are done with our running around or driving through to get food that is less healthy than what we really want to be feeding our children. We try hard to keep them on an organic/no-GMO diet as much as possible. That can be tricky when you're eating on the run.
Tuesday we had just such a moment.  Sweet Hippie Daughter had band practice in the morning. We dropped her off and Toddler-saurus Rex and I headed to the Re-Store to look for some painting supplies and a power sander to use in the new house.  By the time we picked her up, 2 1/2 hours later, they were both fussing about being hungry.  I knew that lunch was still at least an hour away but, luckily, I had just picked up several pouches of Stonyfield Organic yogurt.
YoBaby, YoToddler, and YoKid yogurt pouches are the first refrigerated organic yogurt pouch available. All of the Stonyfield organic yogurt pouches contain pure organic ingredients and never any high fructose corn syrup or artificial flavors so we didn't need to feel bad at all letting the kids dig in.
The design of the pouch makes it easy to eat on the run, but would they like it? I wasn't sure about T-Rex. I don't think he's ever had yogurt before and he is a fairly picky eater.  I gave him one of the YoToddler pouches. It was Strawberry, beet, berry.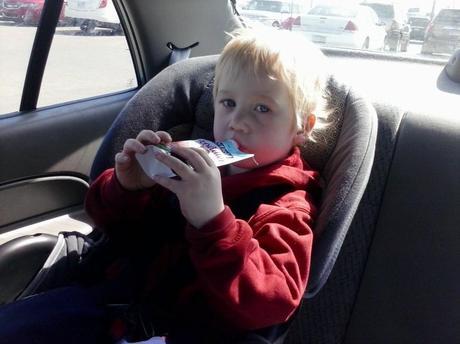 He sucked it down and immediately said, "I want some more!"
When Sweet Hippie Daughter got in the car she dug into the bag and grabbed one of the Strawberry YoKids pouches and she, too wanted seconds right away.
They both loved them so much I actually had to cut them off so they could "save room" for lunch when we got home.
In addition to the strawberry YoKids and the Strawberry, beet, berry YoToddler pouches we had a few vanilla YoBaby servings as well. They didn't last long, either.  I asked SHD which flavor she liked best and she said, "I loved them all and I would eat any of them but I think strawberry was my favorite."
I predict Stonyfield Organic Yogurt Pouches are going to become a constant item on our grocery list.  If you'd like to see if they are sold in a store near you they offer an easy to use store locator tool on their website.
Connect with Stonyfield
Enjoy your healthy snacks!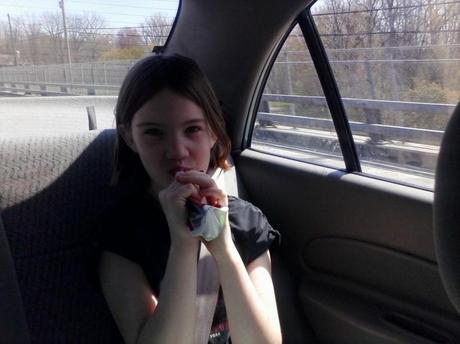 Are you, too, seeking to save the earth, promote world peace and raise productive citizens without expending too much effort?
Why not follow Lazy Hippie Mama  by email, Facebook, Google+, Twitter or Instagram to get all the updates?
If we work on our goals together, they may be a little easier to achieve!