Are you dreaming of ice cream while on your diet? While most ice creams are definite diet busters, that doesn't mean you have to exclude it completely from your meal plan. There are healthy, diet friendly ice cream options out there that you can even make right in your home for cheap. This particular recipe only uses a couple ingredients and makes a smooth homemade brown sugar and toasted almond ice cream. Now doesn't that sound better than celery?
Here are the ingredients you will need:
1 1/2 teaspoon unflavored gelatin
One tablespoon of water
2 1/2 cups milk, divided and low-fat
3/4 cup dark brown sugar, packed
1/2 teaspoon of cinnamon
Three egg yolks, large
1 12-ounce can of evaporated milk, nonfat
One tablespoon rum or vodka
1/2 cups of almonds, toasted and chopped
And here is how to make your own ice cream.
Get a small bowl and pour the water in it and sprinkle the gelatin over the water. Let it stand, only stirring once or twice.
Use a saucepan and put 1 1/2 cups of milk in over medium heat. Next whisk in the cinnamon and brown sugar. Let it cook until it's steaming. Now get a mixing bowl and mix in the egg yolks and evaporated milk. Keep whisking and add in the hot milk to the large bowl until all blended together. Now bring it all back to the pan and mix for at least five minutes. Do not bring to a boil.
Now strain the custard through a sieve (fine mesh) into a large mixing bowl. Add in the gelatin mixture and whisk together until melted. Next whisk in 1 cup milk and rum (or vodka). Now cover and let it chill for at least three hours or even over night.
Take out and whisk the mixture again and place into an ice cream maker or use two Ziploc bags, salt, and ice. Freeze using the maker's instructions but during the last five minutes, add in the almonds.
Recipe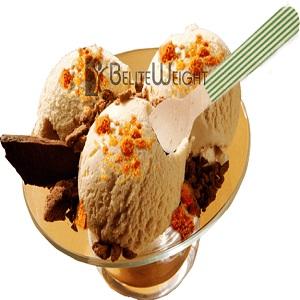 Recipe Name
Healthy Homemade Brown Sugar & Toasted Almond Ice Cream
2014-06-27 1H15M 1H15M Total Time 1H15M
no rating





Based on 0 Review(s)