Guests will come back for seconds of this healthy holiday appetizer of tomatoes stuffed with goat cheese and sprinkled with green onion.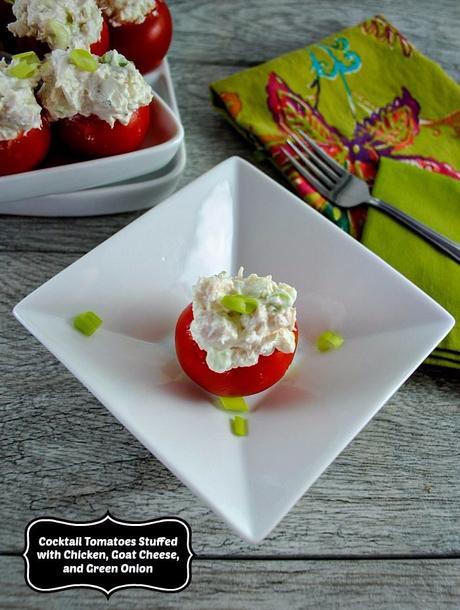 I LOVE 5 Ingredient Friday recipes. It's a fun challenge every week to come up with a recipe that packs flavor with minimal ingredients, and I think this healthy holiday appetizer is a crowd pleaser. (When you view the ingredient list, keep in mind that in my 5 ingredient world I'm allowed staples of cooking oils, standard condiments, salt, and pepper.)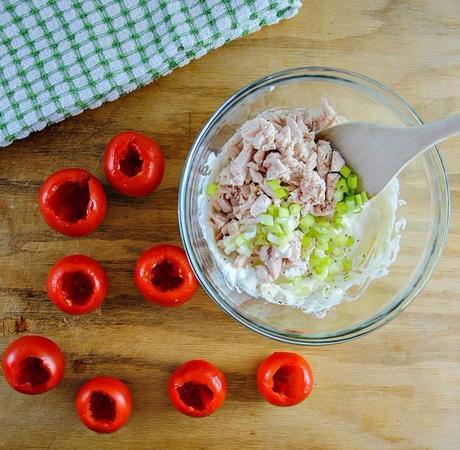 This recipe takes advantage of a store-purchased rotisserie chicken breasts to make a quick appetizer. I don't buy rotisserie chickens often as they are typically higher in sodium, expensive, and not raised in a manner I can get behind, but when time is crunched (like it is over most holidays, this one being Labor Day weekend) I'll pick one up for convenience.
If you have the time and want to save money and your blood pressure, you could easily bake a few chicken breasts in the oven at 350 degrees and allow them to cool before you combine ingredients to stuff into your tomatoes.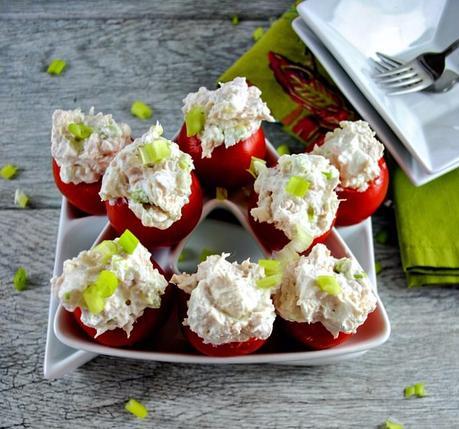 I think cocktail tomatoes are the perfect size for this healthy holiday appetizer. They're not too small to pack and they have a festive ruby red holiday color, don't they?
I scoop out the seeds with a melon baller, then combine goat cheese with yogurt and a hint of spicy Dijon mustard. Use the same melon baller to stuff your tomatoes, then simply sprinkle with sliced green onions. That's all it takes to make a super easy, healthy holiday appetizer weight watching guests and everyone else will be pleased with.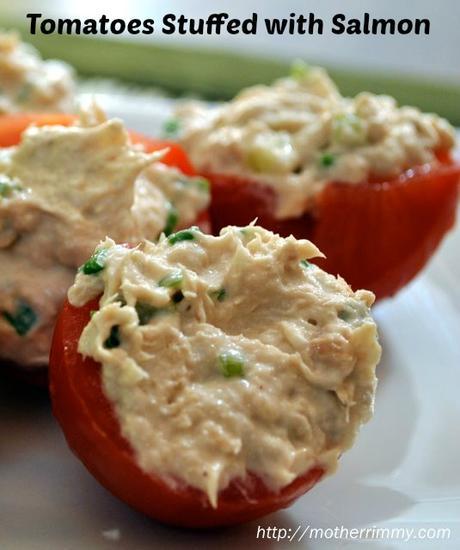 Shake It Up!
I have a tasty collection of healthy appetizer recipes that take advantage of bite-sized cocktail tomatoes. Canned wild-caught salmon really works well stuffed into tomatoes with goat cheese and a squeeze of fresh lemon. If you aren't a salmon fan, tuna works just as well.
Have a terrific holiday weekend, then it's back to school we go!
Cocktail Tomatoes Stuffed with Chicken, Goat Cheese, and Green Onion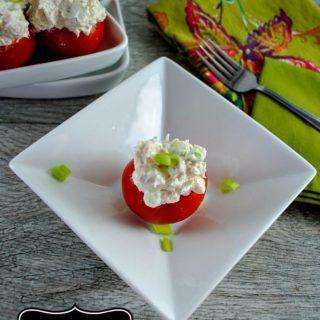 8 cocktail-sized tomatoes (about 2 inches in diameter)
2 ounces goat cheese, softened
½ cup plain Greek yogurt
1 teaspoon Dijon mustard
8 ounces rotisserie chicken breast, cooked and diced
2 large green onion, sliced
Salt and pepper to taste
Slice a small circle around the core of each tomato and gently pull out the core. Using a melon baller or teaspoon scoop out the guts, then slice a small piece from the bottom to allow tomatoes to lie flat.
Combine remaining ingredients, season with salt and pepper to taste, and fill each tomato with chicken mixture.
Chill for 30 minutes and serve.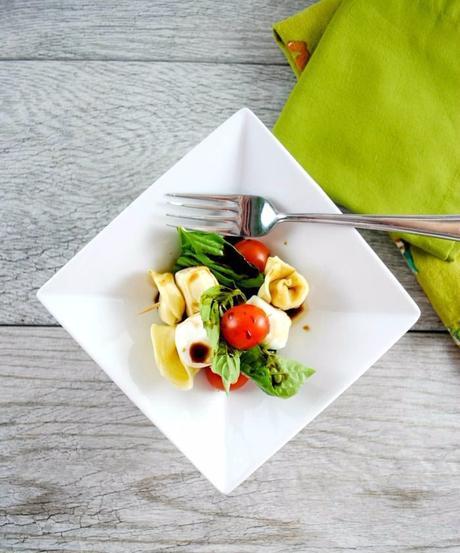 PS - Monday's recipe for tortellini skewered with mozzarella, tomatoes, and basil is perfect for a Labor Day weekend barbecue!