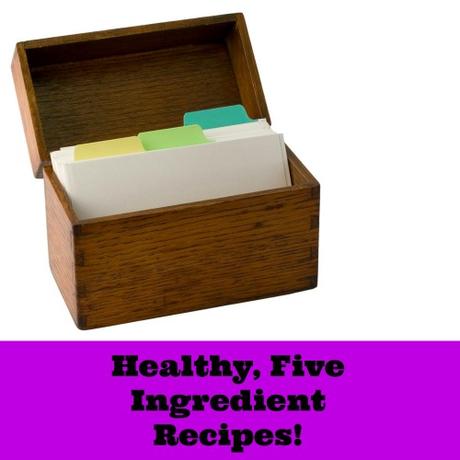 Life at home might seem a lot busier for some now that school is back in session. It can be hard to find the time to grocery shop and plan out a good meal. Here are some great meal ideas that only require five ingredients, making them much faster and easier to prepare!
5- Ingredient Mexican Quinoa Stuffed Peppers
https://www.gimmesomeoven.com/5-ingredient-mexican-quinoa-stuffed-peppers/
This recipe uses fresh ingredients and quinoa, which is a great source of fiber and a great substitute for those wishing to avoid gluten!
6 medium bell peppers (any color), tops cut off and cores removed
1 package Morningstar Farms Chipotle Black Bean Crumples, cooked according to package instructions
3 cups cooked quinoa
2 cups (8 ounces) freshly-shredded Pepper Jack cheese
1 cup good-quality salsa (I used a salsa verde with corn)
optional toppings: chopped fresh cilantro, diced avocado, extra cheese
In a large mixing bowl, stir together the cooked black bean crumbles, cooked quinoa, 1 1/2 cups shredded cheese and salsa until combined. Spoon the mixture evenly into the cavities of the six bell peppers. Sprinkle the tops with the remaining 1/2 cup shredded cheese.
Bake uncovered for about 25-30 minutes, or until the peppers are cooked and soft and the cheese is all melted. Serve immediately, topped with optional toppings if desired.
Roast Chicken and Sweet Potatoes
http://www.eatingwell.com/recipe/250549/roast-chicken-sweet-potatoes/
This delicious chicken recipe doesn't need a lot of ingredients but packs in a lot of flavors. Sweet potatoes are a great source of fiber, iron, and calcium, and also have beta-carotene, which is an antioxidant!
2 tablespoons whole-grain or Dijon mustard
2 tablespoons chopped fresh thyme or 2 teaspoons dried
2 tablespoons extra-virgin olive oil, divided
½ teaspoon salt, divided

½ teaspoon freshly ground pepper, divided
1½-2 pounds bone-in chicken thighs, skin removed
2 medium sweet potatoes, peeled and cut into 1-inch pieces
1 large red onion, cut into 1-inch wedges
1 Position rack in lower third of oven; preheat to 450°F. Place a large rimmed baking sheet in the oven to preheat.
2 Combine mustard, thyme, 1 tablespoon oil and ¼ teaspoon each salt and pepper in a small bowl; spread the mixture evenly on chicken.
3 Toss sweet potatoes and onion in a bowl with the remaining 1 tablespoon oil and ¼ teaspoon each salt and pepper. Carefully remove the baking sheet from the oven and spread the vegetables on it. Place the chicken on top of the vegetables.
4 Return the pan to the oven and roast, stirring the vegetables once halfway through, until the vegetables are tender and beginning to brown and an instant-read thermometer inserted into a chicken thigh registers 165°F, 30 to 35 minutes.
Salmon and Asparagus in Foil

Shrimp and Quinoa Salad

This shrimp and quinoa salad is the perfect, light and refreshing meal that is easy to prepare and convenient when you don't have a lot of ingredients on hand.
12 ounces fresh or frozen large shrimp
3 tablespoons white balsamic vinegar

Thaw shrimp if frozen. Peel and devein shrimp, leaving tails intact if desired. Rinse shrimp and pat dry with paper towels. Thread shrimp on four 8-inch skewers.* For a charcoal or gas grill, grill skewers on the rack of a covered grill directly over medium heat for 4 to 6 minutes or until shrimp are opaque, turning once halfway through grilling.**
Meanwhile, rinse quinoa; drain. In a medium saucepan bring 2 cups water to boiling. Add quinoa. Return to boiling; reduce heat. Simmer, covered, about 15 minutes or until water is absorbed. Remove from heat.
Finely shred 1 teaspoon peel from 1 orange; set aside. Using a paring knife, cut remaining peel and white pith from oranges; discard. Holding an orange over a very large bowl to catch juices, cut segments from orange (set segments aside). Squeeze juice from membranes into bowl. Repeat with remaining orange. Stir in finely shredded orange peel, balsamic vinegar, 1/4 teaspoon salt, and 1/4 teaspoon ground black pepper. Add shrimp, quinoa, and spinach; toss gently toss to combine.
To serve, divide salad among four shallow bowls or dinner plates. Arrange orange segments evenly on top.
5-Ingredient Mediterranean Pasta Salad
http://www.realfoodwholelife.com/blog/5-ingredient-mediterranean-pasta-salad-recipe
If you're feeling a craving for pasta, this delicious mediterranean dish is simple to prepare, with most ingredients only needing a quick chop.
8 oz pasta (gluten-free or whole wheat, any shape)
1 12-oz jar artichoke hearts, drained
1 1.5-oz jar sun-dried tomatoes in oil, drained
1 12-oz jar kalamata olive, drained and roughly chopped
2 tablespoons extra virgin olive oil
2 tablespoons white balsamic vinegar (regular is fine, too)
¼ teaspoon kosher salt
Chopped flat leaf parsley, thinly sliced red onion, chopped cherry tomatoes, chopped cucumber, baby spinach, baby arugula, cooked crumbled sausage, shredded rotisserie or roasted chicken, one can of drained and rinsed chickpeas, one can of drained tuna, crumbled feta cheese.
1. Bring a large pot of water to a boil, then cook the pasta according to package directions, being careful not to overcook. When the pasta is just tender, but not mushy, drain and set aside.
2. Meanwhile, in a large bowl, stir together the artichoke hearts, sun-dried tomatoes, and olives.
3. Add the warm, drained pasta to the bowl, stirring to combine. Add any optional add-ins at this time as well. Pour over the olive oil and vinegar, and sprinkle with salt. Taste and add additional salt or vinegar to taste.
4. Serve warm or at room temperature.
Super Fast Mexican Soup
https://www.tasteofhome.com/recipes/super-fast-mexican-soup/
If you're short on time, this soup recipe is a convenient way to get a lot of flavor without a lot of work.
2 teaspoons olive oil
1 pound boneless skinless chicken thighs, cut into 3/4-inch pieces
1 tablespoon reduced-sodium taco seasoning
1 cup frozen corn
1 carton (32 ounces) reduced-sodium chicken broth
1. In a large saucepan, heat oil over medium-high heat. Add chicken; cook and stir 6-8 minutes or until no longer pink. Stir in taco seasoning.
2. Add remaining ingredients; bring to a boil. Reduce heat; simmer, uncovered, 5 minutes to allow flavors to blend. Skim fat before serving.
For more information on Weight Loss Surgery, please call BeLiteWeight today!