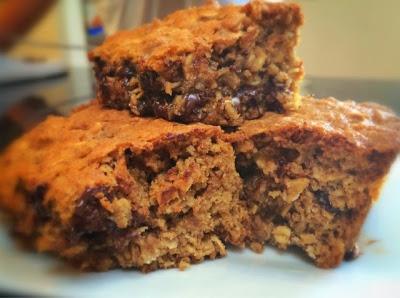 Finally! A recipe that satisfies my sweet tooth and is healthy! What drew me to this recipe is the sheer volume of dark chocolate. These bars looked so chewy and chocolaty that there was no way I could say no. Did I mention the words ( idiot proof) were in the title?So for all of you non-bakers.. this is the recipe for you!
These bars take oatmeal, whole wheat flour, dark chocolate and coconut oil and combine to make this amazing blondie like bar that is crunchy, chewy and chocolaty. In my opinion, it is better to underbake these than over. You don't want a dry oatmeal bar.. gross. I baked these for 20 minutes and they were a little chewy in the center which for me was PERFECT! These take 5 minutes to throw together so dup all of the ingredients into a bowl, mix and bake. In 20 minutes you will be enjoying chocolaty perfection!
 Healthy Dark Chocolate Oatmeal Bars
Recipe from
Half Baked Harvest

Ingredients:
2 1/2 cup old fashioned oats1 cup all-purpose flour1 cup white whole wheat flour or whole wheat pastry flour1 cup brown sugar1 teaspoon baking soda1/2 teaspoon salt1 cup coconut oil, melted (if need you may sub canola oil)2 eggs1 tablespoon vanilla8 ounces dark chocolate, chopped into chunks (about 1 1/2 cups)
Directions:
1. Preheat the oven to 350 degrees.
2. Grease a 9x13 inch baking dish or line with foil or parchment paper.
3. In a large mixing bowl or bowl of a stand mixer, add the oatmeal, flour, brown sugar, baking soda,salt, melted coconut oil, eggs and vanilla and beat until combined and the dough holds together (the dough will seem oily, this is good). Mix in about 1 cup of the dark chocolate chunks.
4. Turn half the batter out into prepared pan, pushing the dough into pan. Sprinkle on the remainingdark chocolate chunks and then place the remaining half of the dough over the chunks. Some of thechunks will most likely be sticking out, that is fine. Don't worry about it looking perfect. If desired you may even add more chocolate to the top.
5. Bake for about 20-25 minutes, just do not over bake. Underdone is always better in my opinion.
Allow bars to cool in pan for at least 30 minutes before slicing and serving.