Dark chocolate lovers will relish dipping their spoons into this healthy chia pudding with fresh strawberries piled on top. (Sponsored by Swanson Health Products.)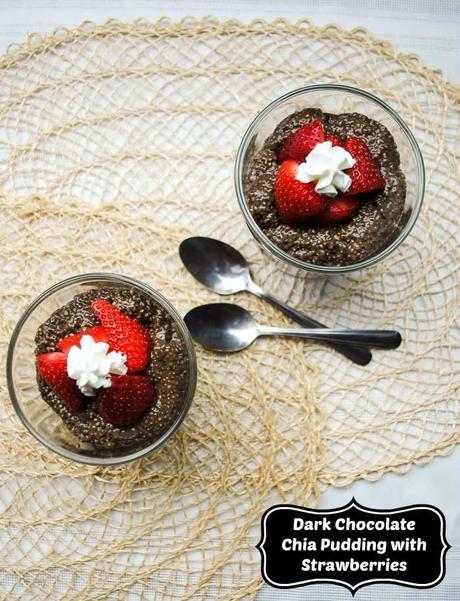 It's 5 Ingredient Friday and this week I'm serving a chia pudding reminiscent of childhood when my mom would serve us tapioca pudding for dessert.
If you aren't familiar with tapioca, it's the starch from a cassava root turned into little pearls that thickens recipes like puddings. Chia seeds have the same texture when you add them to liquids.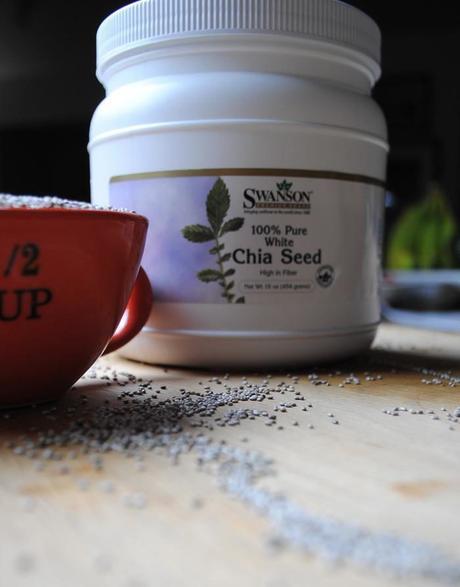 You'll find chia seeds added to smoothies, topping salads, and tossed into baked goods because of their healthy nutrition profile. These tiny little bits are loaded with fiber, Omega-3 fatty acids, magnesium, and protein. Even better, for all that healthy goodness, they're lower in calories. This makes them the perfect for a slender dessert like a chia pudding.
(Authority Nutrition is one of my favorite resources for nutrition information, and Swanson Health Products is a company I can count on to pick up recommended products at a reasonable price like these chia seeds.)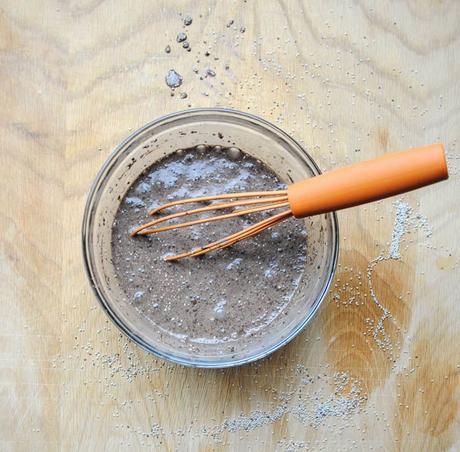 For those of us who should avoid eggs, chia seeds thicken this pudding nicely. Without eggs, there is no need to whip out a pan and cook it on the stove either. Simply add your ingredients to the bowl and allow the seeds to thicken your pudding overnight.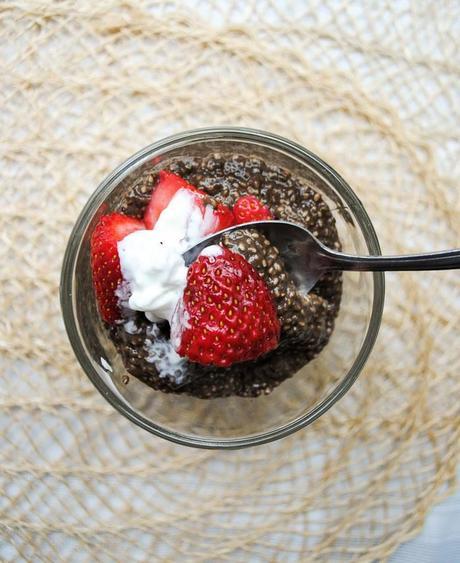 I love dark chocolate in any form, so dark cocoa powder hopped into the bowl along with low-calorie coconut milk and a few packet of stevia for sweetness. A dessert isn't dessert unless it's sweet in my never-to-be-humble opinion.
As you can see, my chia pudding is nicely thickened and delicious with sliced strawberries and a dollop of whipped cream. If you like a creamier texture or if it's a bit too thick (chia seeds soak up liquids like you wouldn't believe!), you can whip it in a blender with a splash of coconut milk.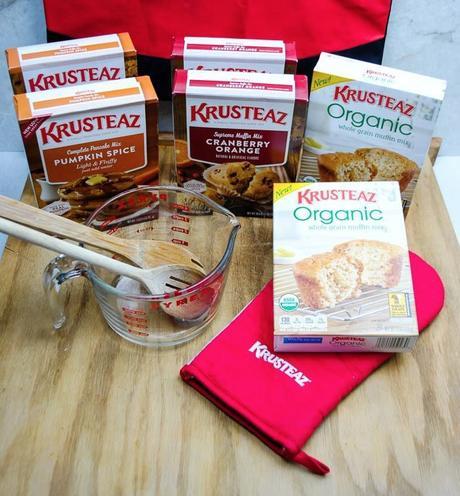 Speaking of desserts - don't forget to enter our Krusteaz baking mix giveaway! One lucky winner will receive a generous package from Krusteaz just in time for holiday baking.
Before I head off to work this 5 Ingredient Friday, I want to leave you with a few suggestions to shake up this healthy chia pudding recipe. There are some folks who don't care for dark chocolate, so if you have cocoa powder in the pantry it works just fine. If you aren't a chocolate lover, try adding a teaspoon of vanilla extract, give it a little taste, then add more if necessary.
Thank you for the chia seeds Swansons! You know I'll be back for more. Have a terrific weekend everyone!
15 minsPrep Time
8 hrsCook Time
8 hrs, 15 sTotal Time

Save Recipe
Ingredients
Coconut Milk, purchase the 45 calorie brand from the dairy section
½ cup chia seeds
4 packages stevia, more if you like sweeter
? cup Hershey's Special Dark Chocolate Powder
1 cup strawberries, sliced
Instructions
Combine coconut milk, chia seeds, stevia, and dark chocolate cocoa powder in a medium bowl and chill overnight.
Stir well after overnight soak and if necessary add more coconut milk if pudding is too thick.
Serve with sliced strawberries.
Notes
http://motherrimmy.com/dark-chocolate-chia-pudding-recipe-strawberries/
Just a reminder that this is a sponspored post, and while I'm not a registered dietician, I do have a certification in nutrition and weight management, and research products prior to promoting them. If you have concerns about any information related to your health you should consult a healthcare professional. This blog owner is not responsible for your use of the information provided, or use of this or any product promoted here.
If you like this, then you'll love these!