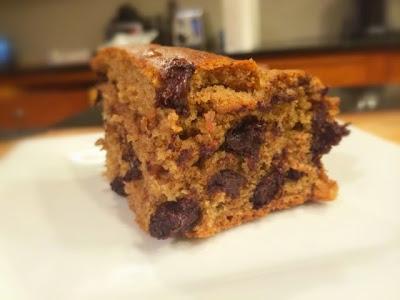 I'm sorry. Did I just make a bread with NO BUTTER or OIL? Yup. I did. Was it super moist and totally amazing? YES! This is actually a similar rendition to a recipe I have made before for coconut banana bread. I have been on a chocolate chip kick lately so I of course added them to the recipe.You can also use carob chips if you would like! This recipe is perfect if you have a couple of old bananas sitting on your counter that you are wondering what to do with. Don't throw them away! They are perfect for banana bread. The browner the banana, the better.  This should be your go to recipe if 1. you like banana bread 2. are craving something sweet, but don't want to ruin your day of healthy eating or 3. just want to feed your family good ole home made food. I shared this bread with some of my co-workers and they were all raving about it. So if you want to make new friends or keep the people in your family happy made them this bread. They will love you!
 Ingredients
1 ¾ cup whole wheat or all-purpose flour1 teaspoon baking powder1¼ teaspoon baking soda1 tsp cinnamon3 Large ripe bananas, mashed1 teaspoon vanilla½ cup of brown sugar3 egg whites¼ cup fat free plain Greek yogurt¼ cup almond milk1/2 cup 70% dark chocolate ( or carob) chips
Directions
Preheat oven to 350 degrees.
Mix flour, baking powder, baking soda together in mixing bowl.
In separate large mixing bowl combine mashed bananas, brown sugar, cinnamon and vanilla. Add egg whites and mix together until smooth. 
Then, slowly add in flour and combine until moist. Next add Greek yogurt and milk. (Depending on the consistency you can add two more tablespoons of milk. If you like your bread more dense —omit the milk — but if you like it more airy or lighter you can add it.) 
Pour into greased 9×5 inch loaf pan. 
Bake for 50 minutes or until toothpick comes out clean and the bread is golden brown.