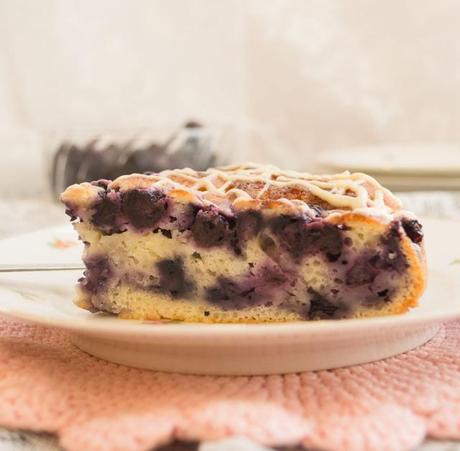 We've all been there. You see a recipe online set your expectations so high. Run to the kitchen. Make the recipe. And bang. Disappointment.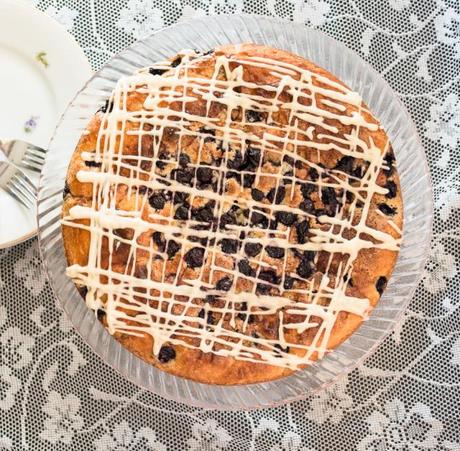 Luckily, this was not one of those day. This recipe is not one of these recipes. This cake was a huge hit.
Pictures just can not do this cake justice.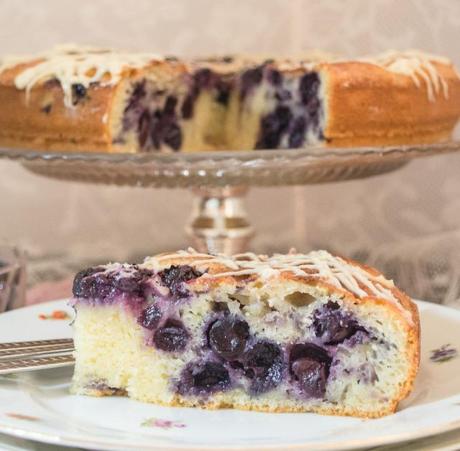 If you bake from scratch, you'll understand. There is nothing more rewarding than watching a cake baked from scratch rise from white batter into a brown rounded delicacy. It's as comforting as shopping is to some women. Call me a weirdo, but am I the only women on this earth who is not crazy about shopping?  Am I the only person who sees shopping as exhausting? I did enjoy shopping a lot when I younger a teen, but now I view shopping as a daunting task, that is often procrastinated and almost ignored.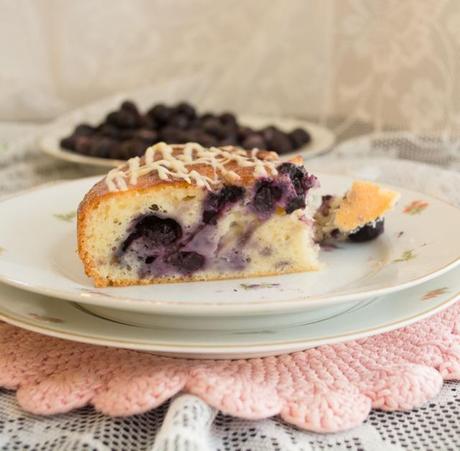 A little background. As a foodgawker-holic, I saw this cake on averiecooks the first time I raised an eye brow. It just seemed to good to be true.  Averie was on and on about how good this cake is,  and I was like, oh its just another berry cake. It can't be that special.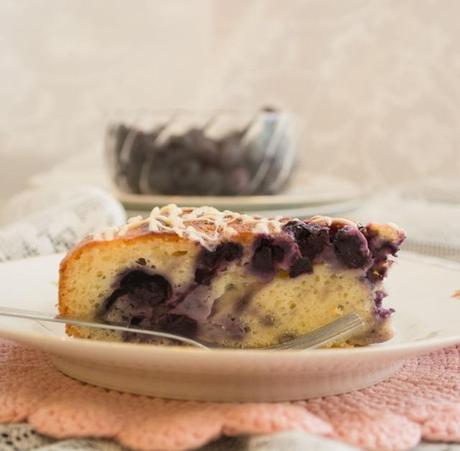 That is until yesterday. I came home from work; the idea of making lunch seemed too boring, I have a family that must be fed something, and the only thing that popped to my mind was "bake a cake"
Yes, I fed my family cake for dinner. But so what. What? You've never done that before?
I adapted the recipe from averiecooks. Here is what I modified
More flour
No oil or butter
Doubled blueberries
Lemon-ized it (i know that its not a word, but anyway…)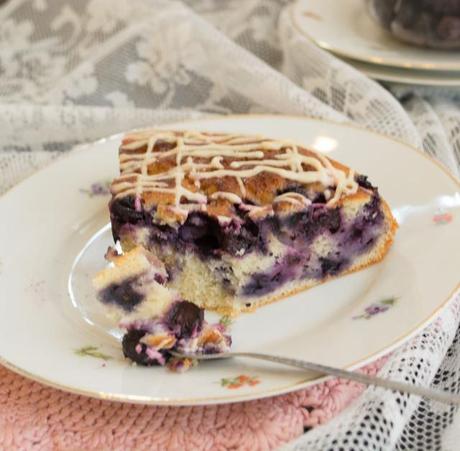 Serve for coffee or tea, for breakfast, lunch or dinner, either ways, this cake recipe is a keeper.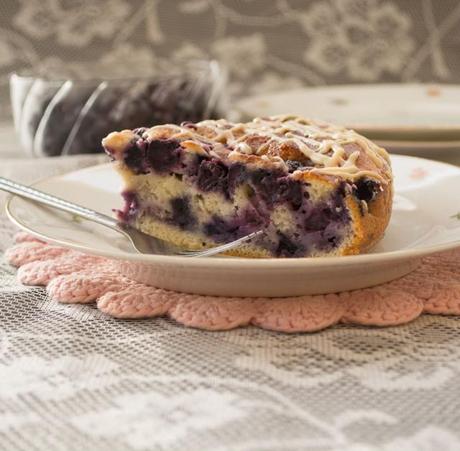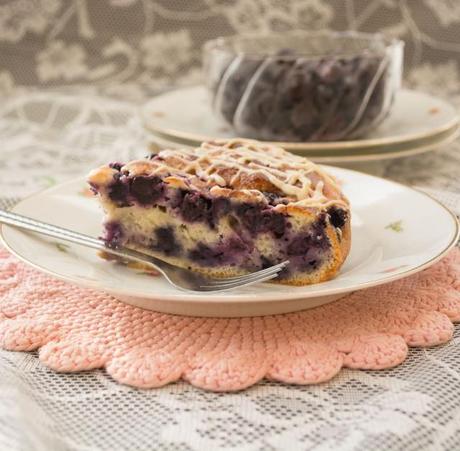 Print Healthy Blueberry Lemon Cake
Prep Time: 10 minutes
Cook Time: 50 minutes
Total Time: 1 hour
Yield: 10 servings
107g
200 calorie per slice
This healthy lemon blueberry cake is my new fast food. Only 200 calorie per slice. No butter. No oil. Slightly sweet. Very blueberrilsious.
Adapted from Averie Cooks
Ingredients
1 3/4 cup (200g) flour
1/2 tsp baking powder
1/2 tsp baking soda
1/2 cup (100g) sugar
1 tsp lemon zest
1 tbsp vanilla extract
1 egg
1 cup (250g) sour cream
1/3 cup (83ml) buttermilk, low fat
3 tbsp lemon juice
2 1/2 cups (340g) blueberry (I used frozen, unthawed)
1 tbsp sugar
Icing
Juice of one lemon
1/2 cup (64g) powdered sugar, sifted
1 tsp vanilla
1/2 package (100g) cream cheese, room temperature
Steps
Preheat oven to 180C / 350 F / Gas mark 4. Grease and flour a 9 inch springform pan. Set aside.
Dump all the ingredients, in the bowl of the stand mixer fitted with the paddle attachment, (or just a large bowl alternatively, you can use a large bowl and a large wooden spoon.) Mix until there are no streaks of flour and everything is mixed. Do not over mix.
Pour the batter into the cake pan. Arrange the blueberries on top of the cake, the batter will be little thick, that's ok, the blueberries might sink, that's also ok. Sprinkle the coarse sugar. Bake in the oven for 45 – 50 minutes or until a cake tester inserted in the center comes out clean.
Cool on a wire rack for 10 minutes, before un-molding.
Icing
In a large bowl, mix all the icing ingredients. Drizzle over the cooled cake.
Devour and enjoy. And you're welcome.
Schema/Recipe SEO Data Markup by ZipList Recipe Plugin2.2http://sukarah.com/2013/07/healthy-blueberry-lemon-cake.htmlSukarah | http://sukarah.com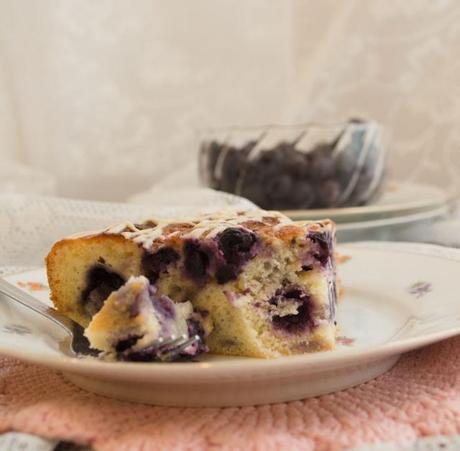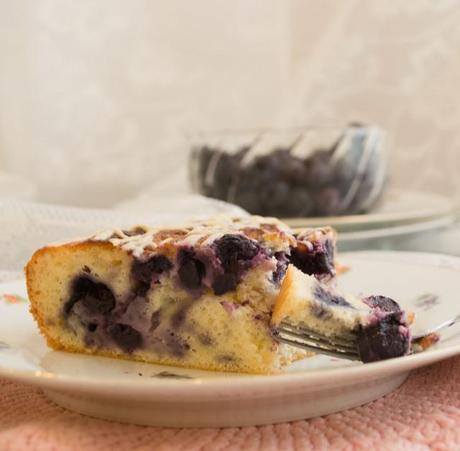 So its confession time. Have you ever served your kids cake for dinner? I am sinfully guilty.
If you enjoy Sukarah's posts, please like us on Facebook, follow us on Twitter, or follow our pins on Pinterset.
Don't forget that to subscribe for Sukarah's RSS feed to receive notification whenever there is a new post.