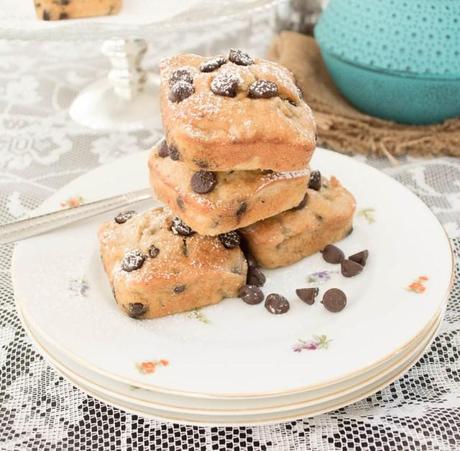 This is a delicious and healthy way to make banana chocolate chip bars (or muffins). I make these whenever  I am –errrrrr watching what I eat. Don't get me wrong, just because I said in my previous post that am going to the gym, doesn't mean that I will eliminate dessert. It just means that am going to eat smarter.
These bare defiantly pass under the smarter category. My favorite part is that they are healthy but don't taste healthy at all. Maybe it's the dark chocolate chips that I used. You see, imho, chocolate is like ketchup. When I cook something and I someone smears it in ketchup, I automatically assume thy are doing this because the food is not good, and the sweet taste of ketchup can musk up any unwanted flavor. Maybe I am wrong, I don't know, maybe its just because I don't care much for ketchup that I am surprised at how much people love it? i think that chocolate is my ketchup. You can cover anything in chocolate and I will eat it.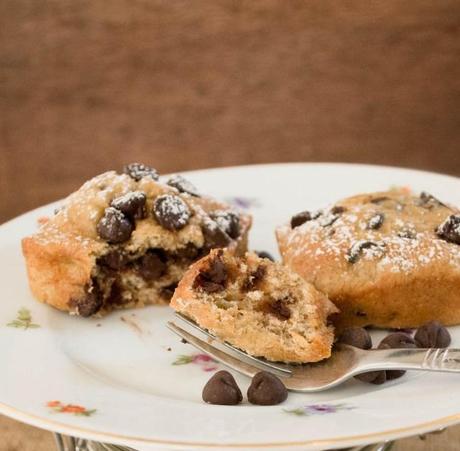 Ok can we start at the beginning? These are not only whole wheat brownies / bars / cake whatever you may call them. There is no butter or oil or sugar or honey added into these.
They make a nice treat after a long work out or working day. Pairs nice with an afternoon cup of tea or morning cup of coffee. They are just perfectly delicious and I guarantee if you make them once, you will make them always.
This is like banana heaven with chocolate. But a healthy that doesn't taste healthy.
I used an individual brownie pan like this one Wilton 4 Nonstick Brownie Pan, 12-Cavity
. But you don't need to buy this pan to make these. A regular large pyrex dish works as well. Just make sure to adjust baking time accordingly (just add 10 -12 minutes to baking time).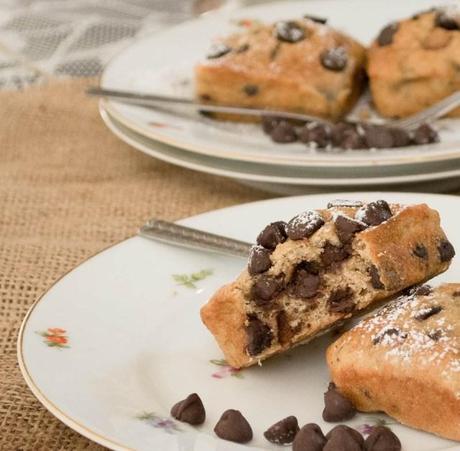 Print Healthy banana bars with chocolate chips
Prep Time: 15 minutes
Cook Time: 15 minutes
Total Time: 30 minutes
You wont believe how good these taste despite the fact they contain no butter, or oil, or any sugar. Makes 24 mini brownie bars.
Ingredients
3/4 cup all purpose flour
3/4 cup whole wheat flour
1/4 cup oat bran
1/4 cup wheat germ
1/4 cup oat flour
2 tsp baking powder
1/2 tsp baking soda
1/2 tsp salt
1 cup sour cream
3 eggs
1 tsp vanilla
4 large ripe bananas, mashed
1 cup dark chocolate chips
powdered sugar for dusting *optional
Steps
Preheat oven to 180C / 350 F / Gas mark 4. IF you using individual brownie pan, spray with PAM baking p spray (even your pan in non stick spray it, because these continue little oil)
In a large bowl, combine the flour, whole wheat flour, oat bran, wheat germ, oat flour, baking powder, baking soda and salt. Set aside.
In the bowl of the stand mixer, mix the eggs and sour cream until combined. Add the vanilla. Add the bananas. With the mixer on low speed, add the flour mixture. Mix until just combined. Don't over mix else thes bar will be dry. Using spatula, fold in the chocolate chips.
Bake in a preheated oven for 15 – 18 minutes or until a skewer inserted in the middle comes out clean.
Cool on a wire before removing from the pan. Best eaten with in a day or two, warm or cool (I like'em fresh out the oven, although the banana flavor really intensifies the nest day
Serve with a dust of powdered sugar.
Store in an airtight container for two days in the refrigerator.
Schema/Recipe SEO Data Markup by ZipList Recipe Plugin2.2http://sukarah.com/2013/08/healthy-banana-bars.htmlSukarah | http://sukarah.com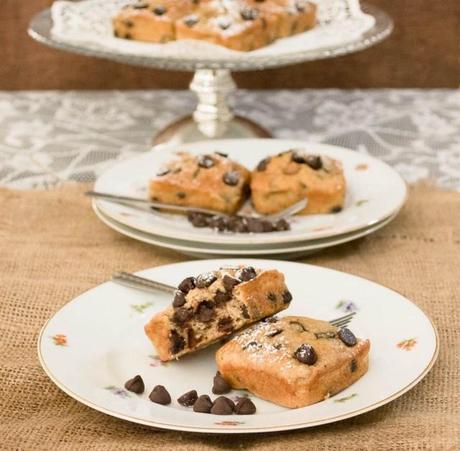 So there you go, an easy, healthy and delicious treat for your morning coffee, or afternoon tea, or just for your sweet tooth. You won't miss the sugar (or fat).
If you enjoy Sukarah's posts, please like us on Facebook, follow us on Twitter, or follow our pins on Pinterset.
Don't forget that to subscribe for Sukarah's RSS feed to receive notification whenever there is a new post.