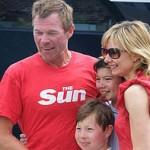 Charlie greeting his wife and children at the end of the challenge
There was a time when completing an endurance event for charity was Big News and would have people immediately reaching for their wallets. The fact is, though, that rarely a day goes by when news of yet another person or crew embarking on a tough challenge to raise money for a worthy cause. Heck, when even Davina McCall has done it you know it's going to be hard to make your adventure stand out enough to get people donating.
So why is it, then, that I'm so impressed by Charlie Pitcher, enough to be writing about him for the second time (I blogged about him here, back in September)? Well, it's partly the charities he's raising money for. One of them is Great Ormond Street Hospital for Sick Children. One of my children was once admitted to GOSH as an outpatient and it was a truly humbling experience to see the kids there. The other charity is C Group, which helps to re-educate injured Royal Marines and seeks to get them back into work.
The main reason, though, that I have felt compelled to write about Charlie is that as soon as I heard about him I had a feeling that he was just the kind of extremist nutter I could relate to. And boy, was I right. Charlie has not only completed the challenge of rowing solo across the Atlantic – at the age of 50 he just smashed the record by a massive five days, nine hours and 11 minutes. Blimey.
Along the way he turned turtle twice, had something of a physical meltdown and at times averaged over 90 miles a day. 90 miles a day. Rowing solo. Think about it.
So let's have a massive round of applause for Charlie. Better still, go to his website and donate. Go on, you know you want to.