I've been meaning to blog about these places for months... only now do I seem to be emerging from my winter inertia. Much has already been written about these establishments in the meantime. Let me just add my small voice to say: go! They serve the freshest possible food at unbeatably low prices.
The original Flushing outpost is the more fun of the two, simply because if you hang around the counter after ordering, you can watch them make your food: the entire kitchen is there behind counter. You order noodles, and one of the women picks up an oval of dough and begins to stretch it, double it, and stretch it some more. Thirty seconds later she's cutting it into LONG, wide ribbons, which are dropped into a pot boiling on the stove. One evening I had the pleasure of watching the owner prepare the da pan ji (大盤鳮) I had just ordered. He obviously knew what he was doing, and the low-key mastery of his gestures was a thing of beauty. As was the final result (photos courtesy of Pete):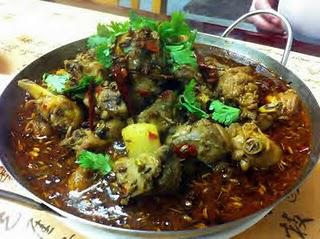 This dish is sensational: complex, spicy, bursting with interesting flavors. Bite-sized chunks of chicken are stir-fried, then braised briefly with some cubes of potato, a LOT of dried red peppers, ginger, garlic, scallion, Sichuan peppercorns, star anise, and god knows what else, topped with some cilantro. When you're halfway through with it, get a side order of noodle and add it to the pot--the perfect companion to soak up that great sauce. Interestingly, this dish isn't even from Henan--it's a Hui dish from Xinjiang. An opera singer I know originally from Henan, studying in the States, explained to me that, since Xinjiang is such a harsh, mountainous province, a lot of people leave it to go to Henan to work, buoying the dish's popularity there (although it appears to be popular all over China).
She also took one look at the menu I showed her and said the lamb noodle soup is an especially well-known Henan dish. It is lovely and soothing (with those great, wide, hand-pulled noodles), but perhaps a little too mellow for my taste (what can I say... I like robust flavors!). However, the zha jiang mian (炸酱面-noodles with pork and black bean sauce) is absolutely the greatest version of that dish I've ever had: those noodles, with a hearty sauce of minced pork and bean paste, topped with shredded cucumber and some baby bok choy leaves. Rather like the Chinese equivalent of pappardelle with ragù.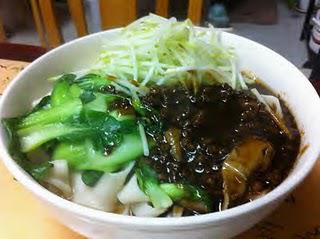 The small size ($4.00) easily satisfies one hungry person... get the large only if you're planning on sharing it. The noodle with tomato and egg (eggs scrambled, in case you were wondering) is also fantastic--quintessential comfort food.
There's a little something for everyone here: almost a dozen noodle preparations (the Manhattan restaurant, as I recall, lists all the noodle dishes as "lo mein" on the wall menu), soup dumplings, steamed dumplings, bing pancake, bing with pork filling. The Flushing location also has a selection of cold appetizers and small casserole dishes (meatballs in broth, a couple of pork preparations). The "crispy meat casserole" ("crispy" must refer to the meat being breaded and fried... after a minute in the broth, it ain't crispy no more!):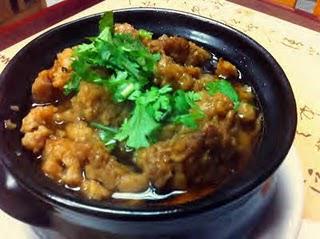 Unusual (in a good way), and quite tasty with a fair bit of ginger flavoring things. Pete liked the sour vegetable dumplings in soup a lot (I haven't tried it yet):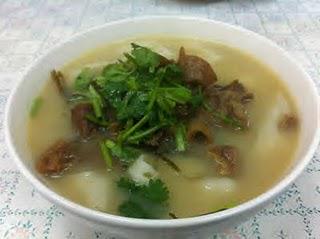 You'll really have to work to spend more than ten bucks here. But if, like me, you can eat an entire da pan ji in one sitting (exciting the curiosity--and commentary--of the guy in the kitchen once at the Manhattan location), you'll spend twelve.
He Nan Flavor
68 B Forsyth St., New York 10002
212-625-8299
(between Grand and Hester St.)
Henan Feng Wei
136-31 41st Avenue, Flushing 11355
718-762-1818
(7 train to Main St.-Flushing, 1 block south on Main, then left on 41st Ave.)