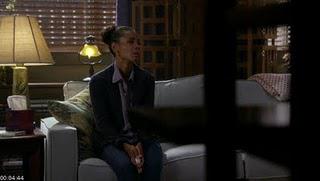 Original Air Date: 2 August 2011
Storyline: After Christina discovers that life has become too stressful, she decides to seek help in the form of therapy. Tom helps an EMT friend deal with an unexpected diagnosis.
Best Quote:
Tom
: No matter what happens, as long as you want me in your life, I promise I'll be there. I hope you feel the same way about me.
Camille
: I do. If you ever want to talk about it, you know where to find me.

Review: This has to be the worst show on TV right now. How does it even survive? This last episode was excruciating, nothing made any sense and the only bearable storylines were just forgotten about. The medical part is not even worth mentioning, we had awful acting and now it looks like they're just inventing stuff up, like Tom being in Iraq and buying new equipment for a hospital that is essentially dying. Honestly, this is worse than The Young and the Restless, which, so far, has been the worst thing I have ever seen on TV. So we got that, after Christina confessed to Tom she had slept with Nick, he moved out and is now living in the on-call room at the hospital. We got her in therapy and him acting erratically and snapping at everyone at the hospital. We got a new CEO that is just making all these kinds of big decisions for the hospital over night. You just know this is a disaster.
Christina goes to therapy and her moments there were the most awful scenes I've ever seen anywhere. She just starts reminiscing about her childhood and blaming everyone for her disastrous life, when the only person she can blame is herself. She blames Tom for not being with her on their wedding night and choosing the job before her, when we all know she chose her job before him numerous times, including during the worst time of his life (his elbow surgery). She just keeps saying that Tom wasn't there when she was attacked, but Nick was (?), when it was Tom that ran to her side and helped her. She doesn't even think about Tom's superhuman efforts to save their baby, but instead she says Nick was the only one who has been there for her, because he murdered her attacker? This is all so wrong I don;t even have the words to describe it. Tom has been a saint all along, going through it all and trying to be there for her, when she just kept pushing him away and instead cover for a murderer. This is by far the most unlikable main character in the history of time. Please just spare us the torment of renewing this for another season.
In all this, Camille is the only one who seems to have grown up. Even Christina admits she hasn't been there for her when her daughter needed her and that she is more like the child than the parent. 
More bad stuff: no more Kelly or Brenda, very little (and none of it representative) of Steve and Bobbie. The only good thing: Tom serving that stupid whiny botch with divorce papers. I really really really hope they don't get back together. She doesn't deserve him, let her be with that murderer Nick instead or have her die in excruciating pain by the end of this season.
HawthoRNe 3x07: To Tell the Truth
Back to Season 3
HawthoRNe 3x09: Signed, Sealed, Delivered