I've always wanted to address the issue of having a big forehead, and in my case, having a 5-finger forehead. A 5-finger forehead basically means that all my fingers fit the space of one forehead. Usually one sees a lot of 3-finger or 4-finger foreheads but having a wide enough forehead for 5 fingers? (P.S: It has to be your own fingers though)
Big foreheads in my family are inherited from my Borneoan native grandmother on my father's side. Besides the wide forehead, I also inherited the native thunder thighs and hips…sigh. I'm still self-conscious about my forehead but not as much as when I was younger. Puberty was hardest for me when my zits definitely stood out really well then!
I used to have bangs when I was a little girl but since then I've grown out of them into…longer fringes. One of the reasons why I don't bother having a fringe is because of my fine hair (like Christina Ricci). Fine hair and large forehead? Probably not a great idea. I used to give horror looks to my hairdresser in the UK whenever he tried to convince me to have a fringe! Fortunately I didn't give in to his hairdressing demands

I normally wear my hair down to try not to cause too much attention to my forehead. If you're wondering how a wide forehead looks like, here are some famous people: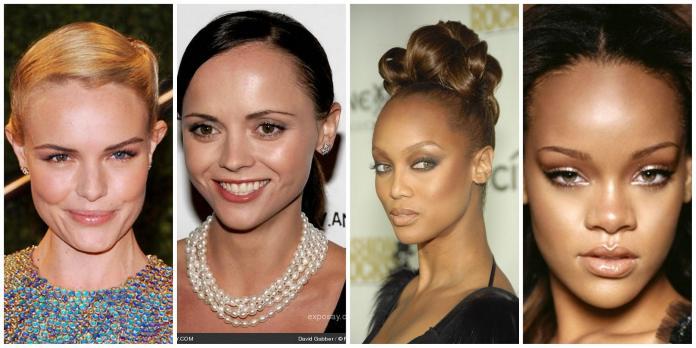 L-R: Kate Bosworth (not too wide), Christina Ricci, Tyra Banks, Rihanna
Kaftan: H&M; High hair bun to distract from my large forehead on a hot day (is it even working?!)
Of what I can remember, I only know of one good friend who has mentioned that she likes it when I pull all my hair away from my face with a headband, more than letting my hair down. Normally the only reason why I'd tie my hair exposing my wide forehead is because my hair is oily (no time for a wash) or partaking in some extenuating exercise. Nevertheless, I did find the genuine comment rather nice. The thing is, I still don't know what she sees in that look!
Anyway, as part of growing up one learns to deal with things we are born with

Though, one unsatisfactory definition of a 5-finger forehead from Urban Dictionary states this:
A forehead that is 5 fingers or more wide. Commonly associated with ugly chicks and losers.
Really?!

130 people voted it up too, compared to the 11 who voted it down (me included). That's just mean. I think that definition should be changed.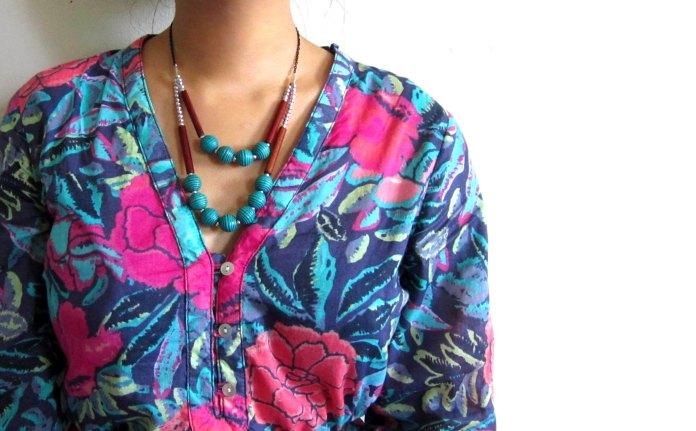 Necklace: DIY
In any case, as this is also an outfit post…my parents were rushing me for my own birthday dinner a month ago so I just slipped on this kaftan dress which is very pyjama-like. It was a great idea though because I ate so much that my stomach started to bulge so the kaftan was great at covering up my gluttony

I had also recently tried my hand at layered necklaces using these bright turquoise beads and I'm quite happy how my first try turned out! It also suited my kaftan well, giving me that boho-chic look I wanted.
So…what are your thoughts on 5-finger foreheads? Do you happen to know any thing associated with it (because I don't)? I'd love to know your thoughts! xx