The Telegraph and Daily Mail are today reporting on an email sent from a mother in law to her son's bride. It's not a nice story but one that gets me thinking and I'd love to hear your opinions on this one!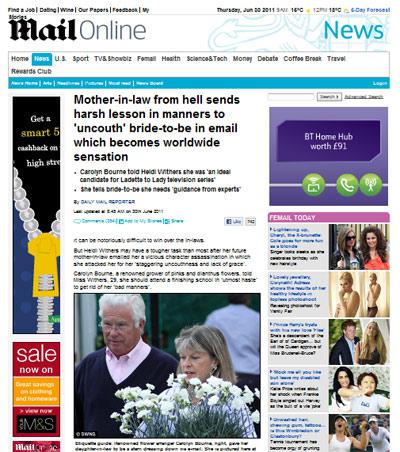 Source: the Daily Mail (mother in law email to bride article)
Allegedly the mother in law emailed her son's fiancée with a list of complaints about her behaviour saying:
she lacked good manners
she should attend finishing school
she'd be a great candidate for Ladette to Lady
she didn't try hard enough to fit in with the family
hiring a castle for the wedding was 'brash, celebrity style behaviour'
her parents should have saved more for their daughter's wedding
The girl was shocked to receive the email and forwarded it to a couple of friends… and so the story began – it's now being shared all over the world!
http://www.dailymail.co.uk/news/article-2009518/Bride-left-red-faced-email-criticising-future-mother-law-goes-viral.html
http://www.telegraph.co.uk/news/newstopics/howaboutthat/8607132/Mother-in-laws-email-about-future-brides-uncouth-behaviour-goes-viral.html
So let me know what you think – who's right here? Are you with the bride or does the mother in law have a point?
If you were in their shoes, what would you do now?