A story about fashion and Amsterdam bicycle hire
I look pretty damm good on a bicycle.  But when you're accompanied by the brains and espadrilles behind Men's Fashion Tips in Amsterdam, you have to presage the possibility of being overshadowed by a neater, slicker, more preppy-looking ensemble.  His name is Andrew.
So he's got chicken legs which look like they've been hastily plucked by a Chinese butcher. But he still manages to a) pull off the chino shorts and cardigan effect, and b) look like he's owned that red bike since he was 6 years old.  How does someone suit a bike so much? 
Our cute red bikes can be found at a well-known Amsterdam bicycle hire company called Mac Bike and they offer daily rates for your very own red framed runner.  Choose from a bike with or without handbrakes (I recommened with) and enjoy a spot of Amsterdam cycling, day or night.
People cycle from dawn 'til dusk and it's a pretty trendy way to get around in these parts.  Cars are for schmucks in Amsterdam, but you'd better brush up in your Amsterdam cycling etiquette if you're going to brave the roads. 
Amsterdam Bicycle Hire – Get Around in Style
Flirtatious peep toe heels, imperviously skintight get-ups and glaciated hairspray dos are a no-no for Amsterdam cycling. Your hair won't look fab all day, designer handbags have no place on your new set of wheels, and don't even think about wearing impractical footwear.
The chic hobo look is all the rage if you're planning on getting Amsterdam bicycle hire for the duration of your stay.  And in case you're wondering – there's nothing wrong with a pinch of bike/outfit coordination.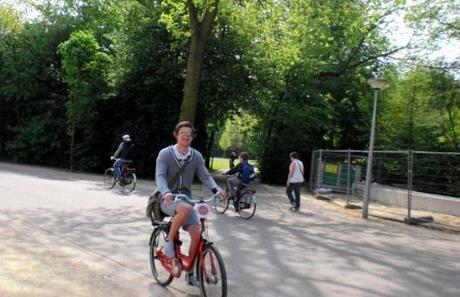 Amsterdam bicycle hire from Mac Bikes
Practice Makes Perfect with Amsterdam Cycling
If like me, it's been years since you've ridden and your biggest fear is bucking over a large rock and flying head first into something moving or solid (like an even bigger rock), then it's a good idea to practice your Amsterdam cycling skills first.
I thought Vondel Park was a preeminent place for premature peddlers like myself, but there are many parks in Amsterdam where you get to grips with the different gears, practice locking and unlocking your bike, and sing along to Fat Bottomed Girls on your iPod (not that I secretly love Queen or anything). 
Parks in Amsterdam for cycling:
Vondelpark
Beatrixpark
Amsterdamse Bos
Amstelpark
Frankendael
Sarphatipark
Oosterpark
Westerpark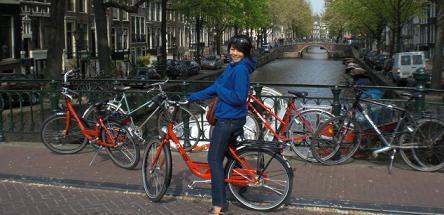 Enjoy Amsterdam, and don't forget to visit Mac Bike for a cute little red gizmo of your own!