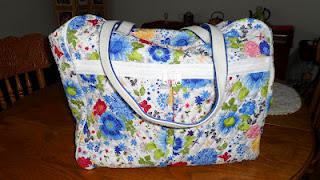 Well it is that time again, time for our annual trip to the Outer Banks of North Carolina.  Atlantic Beach here we come!  This year I will have my one of a kind bag to take with me!  Super roomy and just my style!
I started this travel bag in January, actually it was part of a Sew A Long and I was suppose to have it finished by Valentine's Day, but then I started sewing for Harper ( my grand-daughter that was born on the 11th of this month) and put the bag on the back burner for a while.  I am happy to say that it is finished now, just in time for the beach!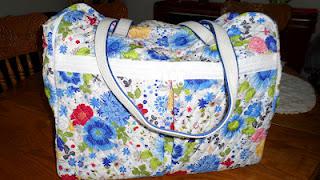 Simplicity 0109 Suede Says Pattern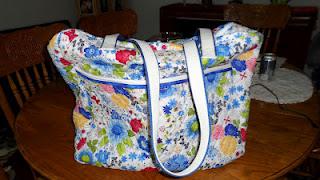 made with double sided pre-quilted fabric
I am happy with the final product, even if I am four months late getting it finished.  It is very roomy with two pockets inside, 2 zippered pockets on the front and one large pocket with Velcro closure on the back. I love the colors, and am really proud to be able to carry it when we go to the beach. It was a snap to sew and really did not take very long once I was able to put my mind on it and off sewing for baby!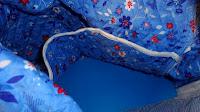 Inside front has a double pocket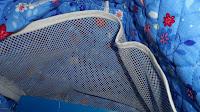 Inside back has a mesh pocket
I have to admit that something happened while I was making it that has never happened to me in over 40 years of sewing. I sewed my own finger! OUCH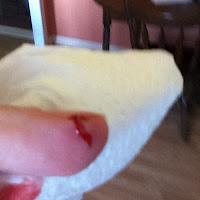 It is still pretty sore, but I think I will live. I was 
sewing and my husband walked into my sewing room and like a dummy I tried to continue sewing while I turned around to talk to him, sure won't ever do that again!
Even with the hurt finger I love my bag and I am so happy to have it finished!
See you soon~!
Happy Sewing