WWTM is heading out on vacation from 8/17-9/3!  Still want a fix? Check the Facebook Page or Twitter during the break...ya never know when I'll feel the urge!  There will not be any e-mail blasts until Tuesday 9/3. Don't worry we still have this week!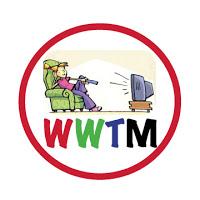 The answer to Friday's Trivia Question: There were actually 2 winners of Dancing with the Stars in 2012. I don't watch this one so I admit I had to look it up myself.  Eliana Girard and Chehon Wespi were the 2 winners last season.
FIRST FIVES: Michael O'Dea, Jim Carter, Andrea Walters, Monica Caraffa & Caryn Vitolo
Honorable Mention: Dani Jackel
The theme was Reality Show Winners of 2012.   Thursday's Broadcast Top 5 Big Brother-CBS 2.5/7.0
The Big Bang Theory-CBS 2.2/8.4
Two and a Half Men-CBS 2.0/7.1
Hollywood Game Night-NBC 1.5/4.7
The Winner Is-NBC 1.4/5.1
Thursday's Broadcast Trendrr Top 5 Big Brother-CBS 227,310 America's Got Talent-NBC 46,040 Glee-FOX 33,711 The Vampire Diaries-CW 29,362 The Big Bang Theory-CBS 29,150
Thursday's Cable Top 5 Alien Sharks-Discovery 1.5/3.1
Pawn Stars-History 1.4/4.9
NFL Pre-Season Football-ESPN 1.2/3.1
Sharkpocalypse-Discovery 1.2/2.6
The Big Bang Theory-TBS 1.0/2.6
Thursday's Cable Trendrr Top 5 Monday Night Football (On Thursday)- ESPN 133,237 Spawn of Jaws: Sharktweeto-Discovery 102,858 Sharkpocalypse-Discovery 95,927 Alien Sharks-Discovery 94,589 Project Runway-Lifetime 57,749
Friday's Broadcast Top 5
Shark Tank-ABC 1.8/6.2
Dateline-NBC 1.6/6.3
Would You Fall For That?-ABC 1.5/5.0
20/20-ABC 1.4/5.0
Blue Bloods-CBS 1.1/6.1
Friday's Broadcast Trendrr Top 5
America's Next Top Model-CW 49,014
Santa Diabla-Telemundo 11,919
Dateline-NBC 10,742
La Tempestad-Univision 6,672
Bones-FOX 6,550
Friday's Cable Top 5
NA
Friday's Cable Trendrr Top 5
WWE Smackdown-Syfy 76,177
The Great White Gauntlet-Discovery 47,177
Fashion Police-E! 21,233
Piers Morgan Live-CNN 18,867
MLB Baseball-WGN America 11,264
Big Brother Bullets
Funny, Aaryn couldn't believe what GM said about Candice's Mom not wanting her, but had no clue that all the racist remarks that came out of her own mouth were probably just as hurtful. 
BB showed us all how Judd got backdoored...Helen! Of course! And who wins big time from that move? Aaryn.  If Aaryn wins this thing I will lose my mind. 
Judd's pleading for his life was brutal for me to watch I can only imagine how tough it was on everyone in the house. Now I know why there was so much crying after he left.
Helen's first pep talk of the show was truly unbelievable. She made Aaryn think that what SHE did by getting rid of Judd will help her win the game, when it was really Helen pulling all the strings. 
Who thinks of these competitions? Roll a ball down a giant banana into a cup? 
McCrae beating Amanda was a smart move even though Amanda had a nervous breakdown over it. 
Helen's second pep talk, this time to Amanda, showed us all how Helen speaks to her children didn't it? OMG, Helen's not even a target yet? 
Andy finally gets an HOH! Did we miss his "Who Wants To See My HOH Room?" moment? 
Loved the clip of everyone saying that they are glad Andy won because they are BFF's with him. Hilarious.
Everyone loves Andy so much that they volunteered to be a Have Not this week.  
Andy took the easy way out though. Didn't listen to Helen (who was 100% right ) about putting Amanda and McCrae up.  Bad move Andy. You just made yourself another target for Helen. 
I guess Helen's puppet master skill were lost on Andy.  Could have also jus lost him the game. 
Breaking Bad
How GOOD was it to see Walter White back on your TV last night? I don't even know what to say.  I didn't see the cancer coming back at all as an option but damn that was a great curve ball to throw our way.  Bring us all back to the beginning.  Hank was just out of his mind now that he knows about Walt, but how insane was that scene in the garage between the two of them? Pretty intense? The car wash scene at the beginning...also brilliant. I loved how it started off light and sort of funny with Walt analyzing the air fresheners but then it turned quickly when Lydia showed up begging Walt to come back to the business, but then Skylar kicked her butt outta there. Have an A1 day Lydia! Jessie's out of his mind, racked with guilt and throwing drug money out his car window onto the doorsteps of strangers. Isn't this all so bittersweet. One of the best dramas ever and while we don't want it all to end, we can't wait to see how it ends? 7 episodes left, I can't wait and I will be devastated when it's over.
The White Queen
Starz really wants a slice of the the "must see" ultra competitive, programming pie.  They've had some respectable entries, but they seem to always fall just a bit short. That's sort of how I feel about
The White Queen.
Think of this one as Game of Thrones ULTRA light. Every one's gorgeous, there's a war (The War of the Roses) but not much battle or blood so far.  There's sex and nudity, but extremely tame compared to GOT.  There's some magic, but the kind you sort of understand.  I liked The White Queen...it wasn't confusing at all. My brain didn't have to do any overtime.   Two families vying for power, The Lancasters (Not the Lannisters) and the Yorks. Pretty simple, so it's easy to keep track of. Based on the first episode, I know who the enemies are and who they aren't.  Of course there are beautiful costumes and great hairstyles that include some crazy braids, and even a Princess Leia Cinnamon bun, for Lady Rivers. The best of the "do's" though, was the evil Dutchess Cecily's enormous buttlike headpiece.  Sure it's a BIT ridiculous that King Edward fell in love with commoner, Elizabeth Gray and secretly married her all before the first commercial break, but for a Saturday Night if you're not going out to a yummy dinner or checking out a movie...you really could get into The White Queen, I did. It's definitely NOT Sunday worthy, but Saturday...it's perfect!
Clear History
Did you guys happen to watch
Clear History
on HBO Saturday night? I'm not sure what I was expecting, but I basically got Curb Your Enthusiasm, sort of. Larry David played a guy named Nathan Flomm who looked like Dumbledore from the
Harry Potter
movies.  Long crazy gray hair, no glasses and a long crazy gray beard.  Nathan made the hugest mistake of his life by quitting his job as the head of marketing for a small electric car company run by Jon Hamm (who you know I hate).  The reason he quit...he hated the name Hamm gave the car..."The Howard", after his son. Of course in true Larry David fashion,  when he quit, he lost his 10% share in the company which of course ended up being worth billions of dollars. The world found out what an idiot Nathan Flomm was, SO, he moved to Martha's Vineyard, cut his hair, shaved his beard, got some new glasses and started a new life with a new name, Rollie.  Of course he was still the same guy even though he looked totally different. In true Larry David fashion, Jon Hamm and his wife Kate Hudson, move to the island and more Larry David lunacy ensues.  Of course the movie had a great cast. In addition to Hamm and Hudson were: JB Smoove, Bill Hader, a nearly unrecognizable Michael Keaton, Eva Mendes, and more, but I guess I was hoping for something other than Larry being Larry.  I didn't love this one and I'm upset that I didn't.  I wanted to. What did you think?
NEWS & INFORMATION
-I honestly don't care at all about Jay Leno's final Tonight Show episode on 2/6/14. Of course I do care when my FBFF, Jimmy Fallon takes over for him and moves to 11:35pm each night which is much better for me personally to keep up with my pal 2 B. Anyone know that date yet?  
-Homeland Season 3 premiere's on September 29th, but you HAVE to watch the trailer. Holy crap it looks SO juicy. The trailer alone stressed me out just like the show does every week. So many questions are raised too. Wait til you see it. Check it out: 
http://www.youtube.com/watch?v=iXOUIsu-E0Q
- There really hasn't been much of an impact on CBS's ratings during the first week of the Time Warner Cable blackout.  Compared to the 7 day period the week prior to the blackout, CBS was flat against A1849, and compared to the same week last Summer, CBS is actually up 33% against A1849. The ratings are telling the whole story though. My friends lives have been impacted, but as we discovered last week when I learned how to use Facetime, where there's a will, there's a way and people will find a way to watch what they want to watch. Unauthorized downloads of Under the Dome rose 34%.  While overall the networks ratings weren't hurt, Under the Dome was down 7% last week.  Let's see what happens when football season starts. I'll be shocked if this isn't all solved before the first regular season kickoff. 
-If the Time Warner/CBS battle wasn't enough, now there's also danger of a Dish/Disney/ABC/ESPN battle.  This one expires on September 30th and seems to be getting ugly already.  Uh Oh.
-For all of you Breaking Bad fans who happen to also be Mythbusters fans, you may want to check in with Adam and Jamie.  The guys are dedicating tonight's entire episode to one of the best dramas of all time.  The gang tests out scenes from the show to see just how much damage Walter White's favorite chemical , Mercury Fulminate, can do.  Based on the clip I watched...a LOT! http://www.thewrap.com/tv/column-post/breaking-bad-mythbusters-crossover-reaches-explosive-conclusion-video-109811
-I gave the producers a great title idea for the 2nd Sharknado movie, 
Sharknado 2: Taking a Bite Out of the Big Apple
, but they are going with Sharknado: The Second One instead. Hate it.

Monday's Trivia Question:
 I just started watching Dexter, only 2 episodes so far, but I'm in. I have 8 seasons ahead of me which could take some time, but...Michael C. Hall who plays Dexter starred in another awesome show. Name the show and his character's name.  You need BOTH for the credit. This is the last week of August Trivia, so get those answers in! 
WWTM-Kristy
Like me on Facebook at Watching Way Too Much
Follow me on Twitter at watchingwaytoomuch@tvnme
http://watchingwaytoomuch.com
kristy@watchingwaytoomuch.com