I am really hoping so! I spent a couple of hours last night with one of my ongoing projects and it felt pretty great. I accomplished quite a bit on it as well, and the colours are coming together quite beautifully. Even Jay commented that the colours were pretty when I showed him my progress.
The project I pulled out of storage was the Bird of Hope 2.0. A full wing is now complete. Well, it will be with six more stitches anyway. It is looking really good on the blue-grey fabric.
I am happy about this because for months and months I have wanted too stitch, but every time I actually sit down to stitch I haven't been able to do so for longer then about ten or fifteen minutes. So the two hours I stitched for last night was a return to "normal" for my stitching habits. Here's hoping it continues.
Oh yes, and here is where I got to last night: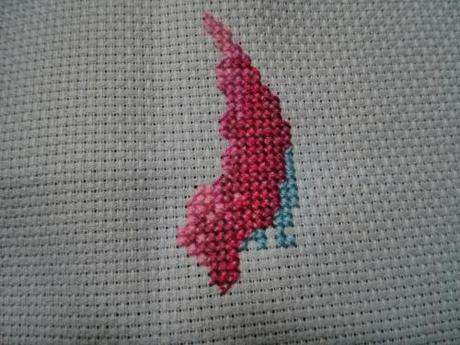 It's not looking like much just yet, but what is there is looking pretty great to me.