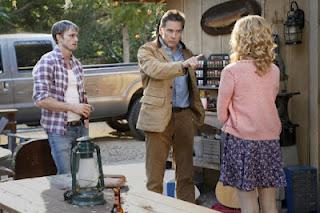 Original Air Date: 27 February 2012
Storyline: 
Much to Brick's disappointment, George is named Bluebell's Man of the Year. As the town's mayor, Lavon is expected to host a cocktail party in George's honor, but for obvious reasons this is a difficult situation for Lavon given his history with Lemon. Fortunately for Lavon, Zoe agrees to step in and help him with the party, but things take a turn for the disastrous when Zoe has to improvise a speech at the gathering. Meanwhile, Magnolia begs Wade to write a song and perform it with her at the party.
Best Quote:


Lavon

: What if you were drunk? What if Lemon chases you through town... with an axe?




Zoe

: Trust me, I've imagined it.