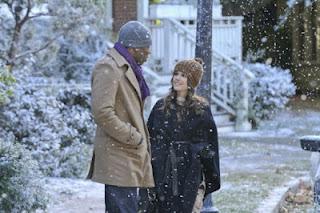 Original Air Date: 20 February 2012
Storyline: 
Zoe Hart is thrilled to see snow in Bluebell, but the rest of the town is superstitious that it will bring bad luck. When Lavon's parents make a visit to Bluebell, Lavon thinks it's the perfect opportunity to introduce them to Didi, but the introduction doesn't exactly go according to plan. Lemon and George make a big decision about their future.
Best Quote:

Zoe

: Oh, there was 

a lot of blood,

 which surprised me, 'cause, you know, I've heard you can't get blood from stone.




Brick

: 

Oh, ha-ha. Maybe you should worry more about the stitches and save your standup routine for later.