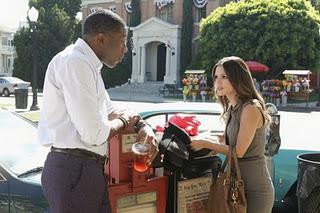 Original Air Date: 14 November 2011

Storyline: When Nascar's Brian Vickers has to drop out of hosting Bluebell Junior League's annual turtle race, Lemon is reluctantly convinced that the mayor is the perfect replacement as her co-host. Zoe is asked out on a date by a handsome local veterinarian, Dr. Judson Lyons. Wade has an unexpected visitor who stirs up all kinds of trouble for him.Best Quote:
Tansy: But Wade, you deserve to be happy, too. Move on from Zoe Hart. A girl like that is never ever going to end up with someone like you. It's her loss, but it's the truth.
Wade: I don't know what you're talking about. Zoe Hart drives me crazy.
Tansy: Yeah, you used to drive me crazy too.

Review:

Hart of Dixie 1x06: The Undead and the Unsaid Back to Season 1
Hart of Dixie 1x08: Homecoming and Coming Home