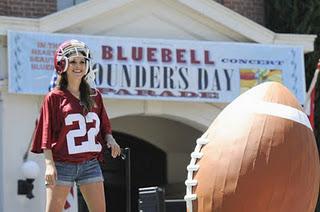 Original Air Date: 3 October 2011
Storyline: 
George Tucker informs Zoe that contractually she needs to bring in thirty percent of the business or Dr. Brick Breeland will have the option to buy out her half of the medical practice. 
Hoping it might help the residents of Bluebell accept her as one of their own, Zoe agrees to join Mayor Lavon Hayes on his float during the Founder's Day Parade, but trying to help out Betty Breeland, Lemon's cousin, works against her when she accidentally crashes the float.
Best Quote:

Wade

: So, Doc, hear you're staying in town. You ever need a cup of sugar, anything, I'll be right next door.




Zoe

: If that line ever works for you, you tell that poor girl to come see me at my office, so I can dispense the penicillin.


Review: Clearly, this show has all the makings of becoming a Grey's Anatomy set in Alabama. Not much of a medical show but very much of a drama with just a pinch of soap opera in the mix. Thankfully, Rachel Bilson and the rest of the cast make this show endearing, while I couldn't stand to watch more than 10 minutes of Grey's so far.

The second episode gives us a Zoe that tries to blend in rather than fight against the current. There's still that little bedside manners thing that pops out when she mistakenly diagnoses someone with Guillain-Barré, but by the end of it she finds out she is more like her father than she thought in that she would rather help out a patient than win a popularity contest. 

I'm a bit disappointed on how fast things turned this way. The appeal of this show is that Zoe, a real New Yorker, is transplanted into an alien environment to which she has to adapt. Turning her into a different person this fast doesn't really leave much room for character development, which in this kind of drama is mainly the only requirement for making the story interesting. Clearly, this show is heading sown the road of transforming the big city girl who wears really short (but very cute) shorts (though I'd like her to maybe show a little wardrobe variation eventually) into a country girl who learns to appreciate things like parades and treating warts with duct tape. I just wish this to be a slower transformation.

There's also the "football costume" issue. Comedic bit aside, someone who recognized the mayor as a former linebacker would know that was called a uniform and not a costume. There are still some holes in the story, but I hope they become less obvious with time.

Despite my criticism, I liked the episode. Betty the Belle's story was a bit predictable from the point where Zoe gave her the pills, but endearing nonetheless. And the ending was quite heartwarming and I dare say Zoe just got her first regular patient - even though giving Tic-Tacs as placebos does not a doctor make.

I'm still not sold on the mayor referring to himself in the third person, but otherwise I like the way the other characters are developed. George willingly puts himself in the middle between Zoe and the Breelands and this is clearly heading down the romance path, but what about Wade? He's becoming one of my favorite characters - I definitely love my boys to be just a little bit bad - and I can see more of a chemistry between him and Zoe than between Zoe and George. If his charming smile didn't warm me enough towards him by now, what he did for Rose definitely did. The Breelands surely are enjoying their mocking, and Lemon - despite her cutesy annoying name - makes a great antagonist with lines like "BlueBell isn't an animal shelter, and we don't have to accept every little stray that comes our way", delivered with a sweet smile and a perfectly coiffed hair, but they are not above having their fare share of pain in their lives. As for Mrs. H., her exit seemed a bit forced, but at least they didn't just write her out without any explanation.

There are still some kinks to deal with and the main character is still not well shaped, but this was only the second episode, so there's still some time to work on all this. Let's just see how it goes for a little while longer.

Hart of Dixie 1x01: Pilot Back to Season 1