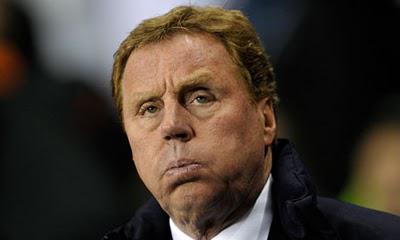 Tottenham Hotspur manager Harry Redknapp
At the start of the season, Harry Redknapp told Tottenham fans that despite the obvious potential for distraction which comes with participating in the Champions League, his mission brief was simple: to finish in the top four and to continue the club's development from mid-table also-rans to genuine title contenders. So far his plan is almost going to plan as they currently occupy fifth-spot, but are well-placed to take advantage of any slip-ups by either Manchester City, or by their main rivals Chelsea.
The fact that Spurs are still in Europe will actually act as a boost – both for the fans and for the playing squad – for the duration of their Premiership campaign. Belief is absolutely sky-high in the camp at the moment, and although defeat against a side as seasoned as Milan wouldn't have been catastrophic for morale, the euphoria that was felt around White Hart Lane come the final whistle on Wednesday night was exactly the sort of sight you'd expect to see at the ground. This is a team of players who are becoming a real force to be reckoned with, and anyone looking to bet on football should remember this.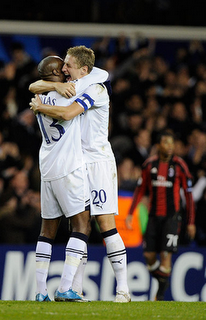 Dawson and Gallas celebrating
The season that Spurs are enjoying – described by manager Harry Redknapp as being like an "impossible dream" – does not solely revolve around their adventures in Europe of course; they are still also excellently placed to finish fourth. Such an occurrence would be a fitting end to a landmark campaign in which they proved to all the doubters that it is not only the likes of Manchester United, Arsenal and Chelsea who can balance both domestic and continental demands. Something the Betfair football predictions suggested they may not do.
Spurs finally possess the strength in depth to cope with either injuries or suspensions – a point highlighted by their defence's ability to shift and evolve as they accommodated lengthy spells on the sidelines for the majority of their household names. The signings of both Rafael Van der Vaart and Steven Pienaar this season have only strengthened an already impressive attacking unit which already featured a vast array of talented players. Spurs will have to treat every game from now until May as a virtual cup final if they are to claw back the three point lead held over them by Chelsea, but they finally have the quality and the belief needed to make up the yards.