Harry Potter and the Sorcerer's stone [also released as
Harry Potter
and the philosopher's stone worldwide except India, Srilanka, Pakistan and USA] was an absolutely brilliant adventure film. 
The book was a huge success and the people behind the film worked upon every little detail to make the film successful as well. Very often, we come across movies adapted from popular books and feel that the kind of atmosphere and setup you imagined while reading the book was very different than the kind of images you are given to watch. This is something which was perfected in the Sorcerer's stone, we imagined a similar Dursley's place and a similarly dark Hogwarts School of Witchcraft and Wizardry; the set decoration was so well crafted.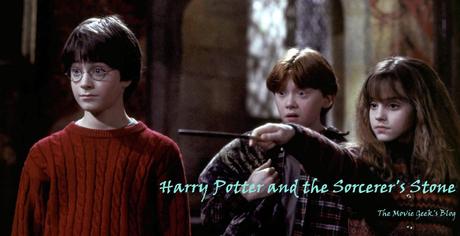 This is not a film which adults usually wave off; instead this was a fully fledged adventure film for people of all age group. JK Rowling's book was muscular and vibrant and director Chris Columbus made sure that the movie version does not end up being a cute film about kids for the kids.
It can be very well compared to Star Wars and Indiana Jones, though I am not sure about the latter one. What Star wars must have been for someone born in the late 60s and early 70s, Harry Potter is something like that for those born in the late 80s and early 90s. The supernatural stuff like a three headed dog never looked out of the place and as a viewer I was glued to the screen while thrilled if the trio will be successful in their little endeavors.
Emma Watson, Daniel Radcliffe and Rupert Grint were only 11, 12 and 13 respectively at the time Sorcerer's stone was released. Daniel as Harry Potter was almost like every one of us has imagined him to be. Hogwarts looked dark and comical, which is something I love about Harry Potter films, because computers could make it look real but the director chose to maintain the atmosphere JK Rowling created in her books.
Apart from the three prime characters, the castings for the adult's role were done fantastically. Alan Rickman, Maggie Smith, Richard Harris and Robbie Coltrane as Professor Snape, Professor McGonagall, Headmaster Dumbledore and Hagrid respectively were the most appropriate choices to make for the persona of the characters Rowling created.
Here is an interesting part from Roger Ebert's review of Harry Potter and the Sorcerer's stone, which he wrote 12 years ago, just after the film was released. Read more about
Roger Ebert Here
.
"Computers are used, exuberantly, to create a plausible look in the gravity-defying action scenes. Readers of the book will wonder how the movie visualizes the crucial game of Quidditch. The game, like so much else in the movie, is more or less as I visualized it, and I was reminded of Stephen King's theory that writers practice a form of telepathy, placing ideas and images in the heads of their readers. The reason some movies don't look like their books may be that some producers don't read them."
Harry Potter is a classic which stays with you for life; you will make your kids watch it. It is that kind of film. Harry Potter can very well be put with E.T, Jurassic Park, Star Wars and Indiana Jones. It is the film you grew up with, how can you not love it?
Note: I have not discussed the plot of the film but other details assuming all of you have already watched Harry Potter films.
Movie Geek's Rating: ★★★★ Great
Cast: Daniel Radcliffe, Emma Watson, Rupert Grint
Directed by: Chris Columbus
-------------------------
Author: Amritt Rukhaiyaar
[This post is a part of the
A to Z Challenge in April 2014
. Let's celebrate blogging.]