Harrods takes seven taste makers to celebrate party style the world over. Seven of the world's top taste makers, Adam Gallagher (I Am Galla), Patricia Otegwu (Patricia Bright), Zanita Whittington (Zanita.com), Melissa Koh (MelissaCKoh.com), Vanessa Hong (Haute Pursuit), Meric Kucuk (Maritsa.co) and fashion director Anya Ziourova, come together in the ultimate global gathering, exclusively with Harrods.
Celebrating party style from around the globe, from Australia to the Middle East, the USA to Singapore, Russia to the UK, each tastemaker showcases their individual take on the festive season, styling up their bespoke edits, and then coming together in a lavish and vibrant experiential shoot on location in Istanbul to capture the party as it plays out.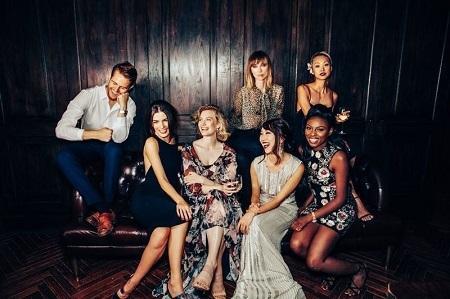 Seven of the top tastemakers come together in the ultimate global gathering, exclusively with Harrods.
Harrods destination party
"As an iconic, global fashion destination, Harrods is thrilled to bring together these top taste makers to showcase how party season is interpreted and styled across the world," Neil Borer, Director, Harrods.com.
"The opportunity to work with Harrods and to have been in Istanbul has been great. Bringing together influencers from around the world with their diverse styles and blogs is a great representation of Harrods and the different styles it offers," Adam Gallagher, IAmGalla.com
"I'm glad that Harrods picked Turkey as the location for this event, I really enjoy Istanbul and it's a really lovely thing to be a tourist in your own city. It's an honor to be part of Destination Party together with all the other influencers from across the globe," Meriç Küçük, maritsa.co
With must-have womenswear and menswear shopping edits, immersive behind-the-scenes footage and imagery, need-to-know party beauty tricks and styling tips straight from the tastemakers, Destination Party features the most covetable pieces for every scenario this party season.
ABOUT HARRODS
At the forefront of luxury retail, Harrods offers the finest merchandise from its iconic Knightsbridge store. Unashamed grandeur, unrivalled choice and customised personal services attract loyal customers and international visitors. From its humble beginnings as a grocer and tea merchant in 1834, to the Terracotta Palace filled with luxury merchandise, Harrods continues to go from strength to strength, guided by its philosophy 'anything is possible'. From haute couture to homeware, the finest luxury merchandise is showcased in the lavish setting of the Knightsbridge store, stretching across eight floors and over 330 departments. There are over 28 eateries to satisfy every taste, and a selection of premier services from By Appointment Personal Shopping to Harrods Bank and Gold Bullion. The Brompton Road store truly has it all.