Although there have been a few aces in the history of the 215-yard 17th golf hole at TPC Louisiana, many golfers at the Zurich Classic consider this Kodak Challenge hole to be a very long and difficult par-3.
Darron Stiles may have used a 7-iron to ace the 17th hole in 2005 with Daniel Chopra needing a 5-iron to do the same in the final round of the 2007 New Orleans Zurich Classic but the vision of water and newly reshaped green may be problematic for the players.
Tournament Director Rommy Fonseca conveyed about TPC Louisiana's Hole #17, "This is a unique hole that has proved very challenging for the players. It has also provided some great play over the years."
RotoExperts.com assessed that the onslaught of Hurricane Katrina caused the redesign of the 17th...
"...giving Dye the opportunity to move some bunkers around, redesign the green and generally make it hell for everyone who dares to gaze upon it from the tee box. Last year, the hole was ferocious, ceding just 38 birdies against 85 bogeys. The 17th claimed another 26 double-bogeys or worse. With a scoring average of 3.23, par will be considered a victory."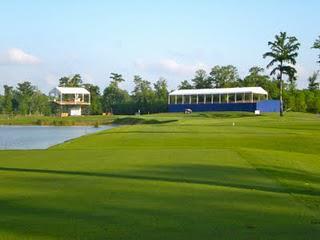 Photo Credit: WamGolf.com
WamGolf.com affirmed the 17th golf hole as a favorite, detailing the way an average golfer might play it (from about 70 yards forward):
"This was clearly a different hole from the TOUR Tees than our tees. From our tee box there was almost no forced carry over the water which runs down the left side of this hole. If you miss the green left, you're wet. A tee shot right and you're left with a chip shot to a green running away from you. It's a long green and a back left pin placement makes this hole more challenging. I was fortunate enough to hit the green in one and then three putt."
Luke Donald, looking for a way to win the Zurich Classic this weekend and take the number-one spot in the OWGR from Lee Westwood had a different version of the hole, saying a birdie at 17 during the opening round helped him to get back on track.
"I was playing great, 2 under, just not holing the putts when I had the chances," mentioned Donald. "It will make dinner feel a lot better with those birdies on 17 and 18. I played really solid today. I only missed a couple of greens. It was as good a display of iron play as I've done all year."


Watch as Brad Faxon drops in a 27-foot putt for birdie on TPC Louisiana at the par-3 17th Kodak Challenge hole...opening round of the 2011 Zurich Classic of New Orleans:
Will the wind wreak havoc this week at the Kodak Challenge Hole #17 or will one of the PGA Tour players ace the hole creating a Kodak moment?
About the Kodak Challenge
The Kodak Challenge highlights many of golf's most exciting and picturesque holes in 2011 as players take on "the greatest scorecard in golf."
Created to celebrate the beautiful holes and memorable moments in golf, the Kodak Challenge is a first-of-its-kind competition on the PGA TOUR. Players must play at least 18 of 30 Kodak Challenge holes throughout the season to qualify. The golfer with the best Kodak Challenge score relative to par at the end of the season will win the Kodak Challenge trophy and $1 million dollars.
Voice your opinion on Golf4Beginners on Twitter
View more great Kodak Challenge holes on Golf for Beginners
Posted via email from stacysolomon's posterous