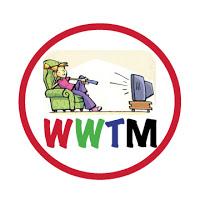 The answer to Wednesday's Trivia Question: Jennifer & Jonathan Hart, Max the Driver and Freeway the Dog were all part of the extremely enjoyable show...Hart to Hart. FIRST FIVES:Monica Caraffa, Dan Realson, Allison Shapiro, Neil Moffatt, & Jim Carter
Honorable Mention: Dani Jackel
Tuesdays Broadcast Top 5 
State of the Union-NBC 1.6/5.7
NCIS LA-CBS 1.5/9.1
The Taste-ABC 1.5/4.7
Betty White's Off Their Rockers-NBC 1.4/5.1
Betty White's Off Their Rockers-NBC 1.2/5.0
Tuesday's Broadcast Trendrr Top 5
State of the Union-All Nets 2,203,331
The Taste-ABC 13,658
New Girl-FOX 11,829
NCIS LA-CBS 9,124
NCIS-CBS 8,843
Tuesday's Cable Top 5
The Big Bang Theory-TBS 1.6/4.1
Tosh.0-Comedy Central 1.2/1.9
State of the Union-CNN 1.2/3.6
Cougar Town-TBS 1.2/3.6  (YEAH COUGAR TOWN!)
Pretty Little Liars-ABC Family 1.1/2.4
Tuesday's Cable Trendrr Top 5
Pretty Little Liars-ABC Family 458,746
The Bad Girls Club-Oxygen 113,566
NBA Basketball-NBA Network 76,986
Dance Moms-Lifetime 70,774
Westminster Dog Show-USA 46,033
 -Yeahhhhhh Survivor is back!  Good thing Jeff Probst didn't give up his night job...he unfortunately lost his day job with the news that his talk show has been cancelled.  Damn...he should have taken the Regis job.  I love Strahan, but Jeff and Kelly would have been awesome. As long as Jeff is there to tell us all that "the tribe has spoken" that's really all that matters.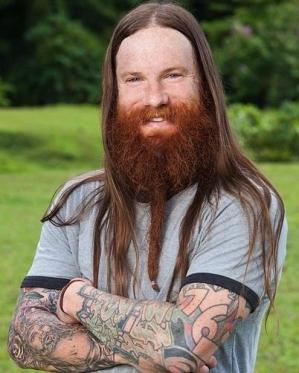 This season it's Fans vs. Favorites 2. Phillip and his pink undies are BACK! Jeff and his blue safari shirt are back and Cochran's back too. But instead of his sweater vest, he brought a huge white pussie pimple and crazy sunburned feet.Somebody must have gotten their fingers on that pimple because in some scenes it was there and some it wasn't.
The show started off as it always does. Some nature shots, a little background on the island and boom...a reward challenge as soon as the teams landed on the beach.  The Fave's won the challenge, fire and 20 lbs of beans. Beans??? Is that a good idea? Especially when you're getting to know your new tribemates?  
Matt, a fan and a BMX dude has this crazy beard spike. (See photo on the left) I can't figure out how it stays that way, it's so odd looking. Super cute fan Reynold (yes, I'm spelling right, there's no "S") used one of my favorite words in a sentence...serendipitous.  I mean that's pretty impressive.  He's on Survivor, strategizing, starving, sweating and he used that word correctly in sentence?  That's talent! What wasn't so smart was doing the nasty with Ali in camp night number 1.  He's just asking for trouble! If you're a true fan, you know that hooking up with a tribe member is a no-no and your ticket to being kicked right out of camp.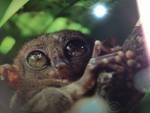 The fans were able to build a fire without flint which was pretty impressive, but if I was going to be on Survivor, I'd practice at home until I could do it with my eyes closed.  Phillip's still nuts, but I loved his Boston Rob Rules of Survivor...of course Phillip knows them but can't seem to play by them. The immunity challenge was really close and unfortunately, Favorites lost that one and headed to tribal. Francesca was voted out first AGAIN! That has to just suck!  I felt bad for her!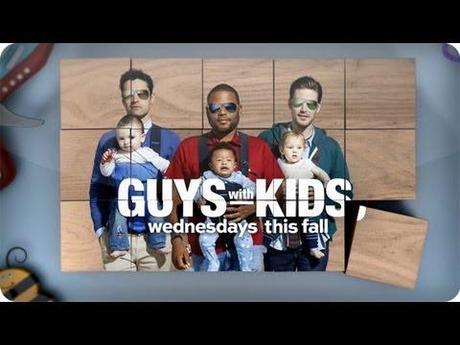 -On my favorite Wednesday night, too cute for words sitcom, Guys with Kids, Gary invented the wrapkin. A smock that you wear over your nice clothes so your kids don't mess them up with their puke, blood, spit, food, or goo before you go to work or out for dinner.  After everyone calls out how much Chris's life sucks, he decides to seize the day and change things up. He ends up dating Stacee the babysitter, going to DJ school and considering quitting his law firm.  At his first gig at Stacee's college dorm, he mashes up "Thank You For Being a Friend" and proves he has a knack for DJ'ing, but luckily Sheila brings hims back down to earth and he decides to DJ on the weekends for fun. Show over...22 minutes of light mindless entertainment...it is what it is and I love it.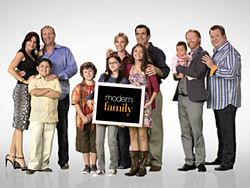 -I didn't love the Modern Family Valentines episode.  Claire had a heart "episode" while she and Phil's sexy man of mystery, Clive Bixby, where role playing again.  While that wasn't funny, Phil invented my new favorite word...Blimpnic...a picnic on a blimp!  Sure it sounds a little bit like that other word, but lets not go there at all.  This blog is rated PG (most of the time).   Mitch and Cam threw a crazy party and got hammered, resulting in the neighbors Christmas decorations in the living room, Dylan living in the guest room and neither of them remembering any of it.  Wish they lost that kid of theirs during their evening.  Gloria and Jay were trying all episode to finally get back to doing the nasty since they hadn't since Joe's birth, but they were interrupted at every turn.  See...not so funny.  Sure a couple of cute lines, but all in all a bit weak.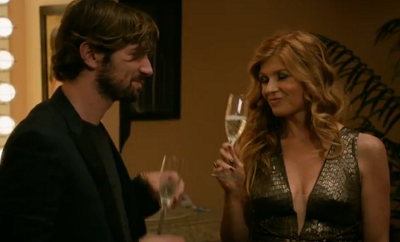 -On Nashville, nothing that juicy happened really, I probably should have chosen to watch The Americans instead. (I will though I promise)  Rayna's all out of sorts about the divorce and BIG GASP she  missed her first cue on stage EVER which had everyone freaking out including her. Just as I got psyched (and I think Liam had high hopes) that she was going to have a wild night with him, she became an emotional mess crying in the bathroom.  Being the good guy that he is, Liam just hung out in the bathroom with her.   Gunner's still got brother trouble which means Scarlett's got Gunner trouble and of course Juliette is trouble all around with her "new sound" that only she's excited about.  I wonder if Taylor Swift is this much trouble and difficult to work with in real life. I know, I know Juliette Barnes is not based on Taylor Swift...heard it before, but I like thinking she is...the shows so much better for me that way.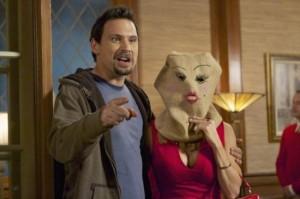 -Holy cow...on Suburgatory, Dallas got BLOWtox and her face looked so disgusting she had to wear this potato sack over her head, so she had to blow off (good one right?) George's million dollar Valentines Day dinner.  He couldn't get a refund so he went alone and got wasted while he ate lots and lots of cow intestines.  Tessa wanted to go to one of those artsy movies for Valentines Day and like a good boyfriend, Ryan Shea went along. Tessa ended up hating it and Ryan ended up changed for life. He's growing on me. Mary Kay Place, who I most remember from The Big Chill (she's the one who slept with Kevin Kline to get pregnant) guest starred as Sheila Shea's Mom who has a weird thing for her son-in-law, Fred.  First Sheila was pissed but then she realized she was the same way with Malik, Lisa's ex BF.  So she created a master plan to get Malik and Lisa back together that was actually brilliant.  If the Mom doesn't like someone, you know the daughter will...so she pretended to hate Malik and sure enough, Lisa went running right into his arms.  Dahlia didn't have a big role in last nights show but every second she's on screen makes up for when she's not...I don't think she ever blinks...it's intriguing.
NEWS & INFORMATION
-Apparently Apple has some cold hard cash laying around...about 137 BILLION dollars (and growing).  So what could they do with all that dough? Here are some ideas:
Give every American a check for $437.

Buy 213 million iPhone, enough for every American who lives east of the Mississippi River, plus Texas.

Apple could acquire Facebook, Groupon, LinkedIn, Netflix, Pandora, Research In Motion (Blackberry), Yahoo, Yelp, Zillow and Zynga —and have more than $2 billion left to spare.

Create a stack of dollar bills 9,300 miles high, 38 times higher than the orbit of the International Space Station.

Buy 100,000 luxury Manhattan apartments, enough to house the population of Omaha.

Foot the bill for U.S. federal spending on education for two years.

Give every Apple employee a bonus of $1.7 million.

Double U.S. foreign economic aid to the developing world for three and half years.

Provide shareholders with a one-time dividend of $145 per share. (The stock closed Thursday at $456.95)

Oh and if none of those ideas are good...I'm always available to take any spare cash off their hands!
-CBS and Amazon announced an expanded content licensing agreement to bring classic series and hit TV shows from CBS and Showtime to Amazon's Prime Instant Video service. Now you can watch America's Next Top Model, Everybody Loves Raymond, Jericho, The L Word,

Undercover Boss,

United States Of Tara

,

Medium

, The Tudors, the complete Star Trek franchise, I Love Lucy and more, commercial-free at no additional cost online and on the Kindle Fire HD, iPad, iPhone, iPod touch, Roku, Xbox 360, PlayStation 3, Wii and Wii U. This is why I really don't need Netflix. 
-The Academy of Country Music Award nominees were announced yesterday. These shouldn't be confused with the CMA's or the CMT's and there could be another Country Music Award show that I'm forgetting.  This years awards will be given out on 4/7 in Las Vegas and we can all watch on CBS that night. The super cute duo of Luke Bryan and Blake Shelton will be co-hosting.  To check out the nominees click on this link: http://www.acmcountry.com/news.html?n_id=440 I'm betting it's a big Taylor Swift night, she's nominated for 5 awards.
-Tell your kids...today is the day.  They can go to www.nick.com and vote for the Kids Choice Awards! I hear screaming and yelling and excitement as they run to the computer and start clicking away for their favorite TV show, cartoon, reality show, movie etc. (My 11 year old informed me that he is too cool for Nick and hasn't watched it in months...really?)  The show airs on 3/23 at 8pm on Nickelodeon!  Yes...I even love THIS award show...guess I'll be watching alone with out my super cool kid.
-Not the news you want to hear if you are the Happy Endings cast...the show just got bumped over to Friday nights to make room for Celebrity Wife Swap...WHAT??? I don't even watch Happy Endings (tried, didn't find it funny at all) but is Celebrity Wife Swap THAT good?  Guess will have to wait and see.
-While still no official numbers on House of Cards are being released from Netflix, we do know that the show is the most popular TV title currently available for streaming.  A bit vague, but I'll take what I can get at this point.
Thursday's Trivia Question
: Still going with the Valentines theme here...the first Valentine that comes to my mind is Emily Valentine...who is she? (I will take the show she was on, the guy she was dating, even the actresses name)
WWTM-Kristy
http://watchingwaytoomuch.com
[email protected]
[email protected]