All teen sci-fi dystopian kidding aside, we too are obsessed with the Hunger Games books and very, very excited for the movie. That's why, after spying Hunger Games inspired weddings like this one and this one, we knew the perfect way to celebrate Wedding Wednesday today. While public opinion is very divided on the idea of a Hunger Games Wedding, we say "Why not?" It's your day, and if it floats your boat (or hovercraft), then so be it. Happy Hunger Games!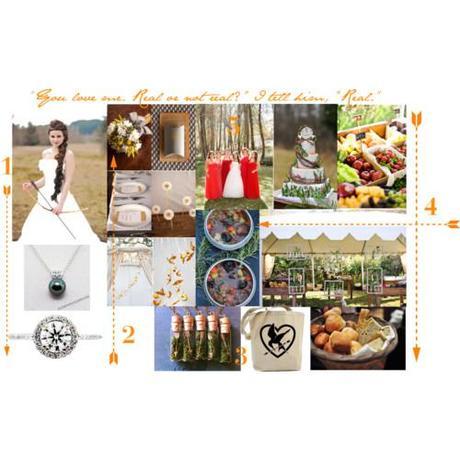 Happy Hunger Games! Wedding Wednesday by
raymondleejewelers
featuring rings














1.
"If you put enough pressure onto coal, it turns into a pearl!"
Effie was so very wrong on this point, but we think this stunning diamond ring (the real result) is a perfect alternative. A Mikimoto black sea pearl pendant recalls the pearl that Peeta gifted Katniss, and holds special meaning. Finally, the bow & arrow are optional for Katniss inspired brides, the braid is not.2.
Like a Dandelion in the spring:
A graphic dandelion motif incorporated through invites, modern centerpieces and a lovely bouquet are a perfect tribute (pun intended).
3.
May the Odds be Ever in Your Favors
: Send guests home with these tiny vials of arena-inspired moss, complete with one of Katniss's deadly-accurate arrows. Or, fill this Mockingjay screen printed tote with artisanal bread, a map of Panem (or your wedding city for out of town guests), or other capitol goodies.4.
The Feast:
So much of the Hunger Games revolves around food, much like any wedding reception. Provide your guests with a Hob-like marketplace, but sub mystery meat for fresh, gourmet berries they'd only enjoy in the capitol. A woodland-inspired cake recalls the bride & groom's District 12 roots, and a true Hunger Games wedding wouldn't be complete without Katniss's favorite lamb stew.5.
The Girls Who Were on Fire:
Dress your maids in Katniss's signature tour color and they'll be smoking hot, even if Cinna can't rig their gowns to go up in flames (we don't recommend DIY-ing that idea).