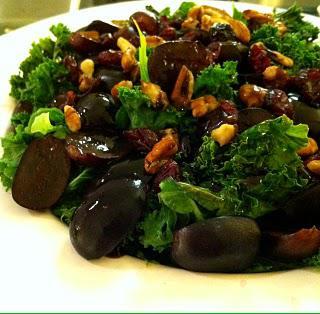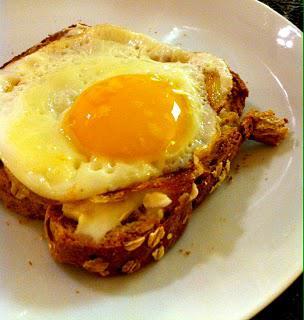 I finally managed to eat some kale tonight!  I keep thinking I should eat it more often but I'm always trying to make it through my gigantic Costco tub of spinach and get distracted by that.  But tonight was my night- I steamed the kale I had bought at Whole Foods the other night and topped with black grapes, dried cranberries, pecans, and citrus flavored balsamic.  I don't know if I quite steamed the kale long enough (2 min in the microwave?) since it was still fairly chewy but I actually liked the texture - it made the salad feel more substantial.  I'm definitely going to try to work it in here and there. The salad was accompanied by a fried egg 'sandwich' with wee brie.
Currently eating my dessert of midnight moon cypress chevre cheese which is AMAZING.  My dad bought some to try when he was visiting awhile back and was nice enough to leave the leftovers for me!
I also have some beautiful daffodils to brighten my condo this weekend!