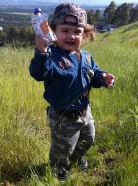 By Shazi Visram, HAPPYFAMILY
At HAPPYFAMILY, our commitment to the environment grew out of our commitment to children and nutrition. We chose to create an all-organic, non-GMO line of food because of the indisputable link between healthy ingredients and a healthy environment. The current quality and nutritional standards of much of the food in the market is unhealthy for our society and the land it is grown on. It is essential that more land be dedicated to organic farming. Our choice to use only organic ingredients has embedded sustainability into our business model—it drives us to work closely with our partners to ensure that we source and produce the highest quality and most delicious organic food.
At the heart of the success of our company are our valued partners. As part of our commitment to the environment, we evaluate our new and existing partners. When choosing a new partner, we check to see if our prospects have the proper quality assurance and key certifications (e.g. USDA Organic). We then use metrics such as product specifications, location, and sustainability practices to assess which candidate is most in line with our environmental mission. For our Significant Suppliers, we implemented an additional assessment to better understand their environmental efforts and challenges around energy, waste, water, and other factors.
We are also dedicated to using the most sustainable, innovative packaging with every product we make. Our HAPPYBELLIES cereal canisters are made from more than 50% recycled content, and our new HAPPYMUNCHIES canisters are made with 62% recycled content. HAPPYBABY and HAPPYTOT pouches have a lower environmental impact than glass jars by using less overall material and by reducing transportation emissions through their reduced weight. Our shelf displays and retail boxes are made from 100% recycled fibers containing 35% post-consumer content. We are constantly working with our partners to come up with the most innovative and environmentally friendly packaging possible.
We also understand the integral role our consumers play in environmental sustainability. Therefore, we have partnered with organizations such as RecycleBank, a fellow B Corporation, and Double Impact to encourage consumers to take actionable and measurable steps toward a greener lifestyle. RecycleBank gives its members points for a variety of green actions such as recycling their electronics and reducing their energy use. These points can then be redeemed for discounts on products, such as HAPPYFAMILY's. Double Impact is an online platform that allows users to log into Facebook, complete simple "green" tasks, such as buying local produce or taking public transportation, and be rewarded with "Impact Points" that can be used for cash donations to the charity of the user's choice.
Although we are still a small company, the actions we have taken to incorporate environmental responsibility into our business have resulted in strong relationships with our partners and customers, a reputation for being sustainable and innovative, and valuable knowledge of this evolving market. Our goal is to continue to improve our production and freight efficiencies to lessen our energy and fossil fuel usage, as well as to continue to identify and utilize the most environmentally friendly packaging available. Ultimately, our overall mission is to be a leader in sustainability and have a business model in place that can serve as an example for other organizations. That's something that we work toward every day.
Shazi Visram is the Founder and CEO of HAPPYFAMILY.