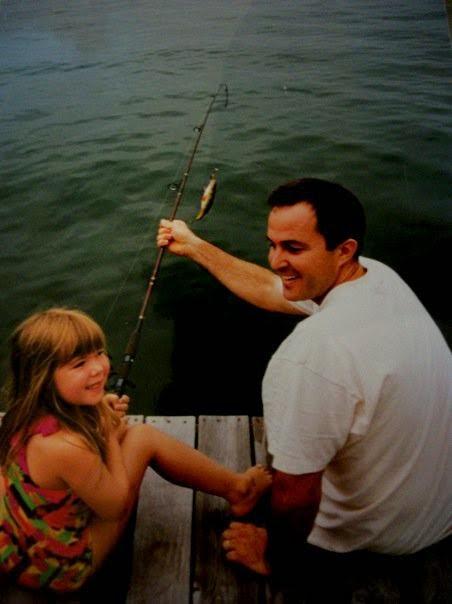 From the very beginning, I've been daddy's little girl. There wasn't a thing that my dad couldn't do. I had my very own version of super man. He could grab the cereal from the top shelf at the grocery store, spin me around in the air just like I was flying, and he disappeared for hours to go to work (like all super heroes did of course.) I think I had seen too many superman movies and had the impression that anyone who worked during the day was just like Clark Kent. But nonetheless, my dad was my hero and there wasn't a thing he couldn't do. If a boy broke my heart at age five, dad would tell me it would be ok and somehow whatever he said worked and I would forget about it a day or two later. He always picked me up when I was down and helped me to understand the world. Like I said, superman.
My favorite time of the day was when dad would get home and like clock work, every night my dad would come and tuck me in and tell me a story about Arasmus the armadillo. I'm pretty sure he made all of the stories up but I believed every single one of them. Of course armadillos are just like people and can talk, right? Those stories are ones that have stayed with me since the time they started and will be told to my kids one day. 
Now that I'm an adult, I'm still daddy's little girl. He is always just a phone call away. There's never a time where I can't turn to him or talk about my dramatic life. He just listens and knows that's what I need at that moment. And in the moment that I do need him to help, he is there with better advice and help than I could have dreamed of. He has helped build me into the person I am and trust me, it took a lot of work.
My dad has taught me the value of hard work. But he has also taught me the value of family. Without it, there wouldn't be anything to work for.  He has taught me the value of unconditional love and also the value of tough love. I have seen him handle burdens I don't think I would be able to and support my family in ways that only a father could. He has taught my brother and I the value of a relationship that is meaningful through his relationship with my mother, his wife. And that love really can conquer all. He has leapt  through so many bounds to keep my family safe and happy. It's my dad who has taught me how I should be treated in a relationship and what that relationship should look like. He has taught me that I am able to stand on my own two feet. Apart from my mom, there isn't a single person that encourages me and builds me up the way my dad does. And he never ever let's me forget how proud he is of me. 
I know that I'm all grown up, and it hasn't been an easy ride. In fact it's been one hell of a rollercoaster. But I couldn't have made it as far as I have without my dad picking me up along the way.
I'll always be daddy's little girl, no matter what age.
Thank you for everything you do for me dad. I'm proud of you too.
I love you.
xo
your little girl