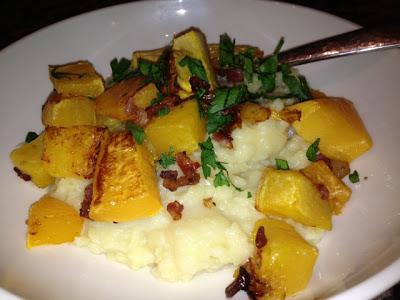 First off, just want to say today is my one year blog anniversary! How insanely fast a year has gone by! I have learned alot in a year and realized how hard it is to gain readers and keep you guys entertained! Some high points of this year blogging has been writing for the Newport Tourism Bureau, having my recipes being picked by Buitoni to have on their Facebook Page and having
a recipe
be on the Pinterest Popular Page more times than I can count. I am so blessed to have a husband that has supported my blogging from day one and my friends and family that put up with me taking endless photos of food before eating and constant chatter about food. Here is to being a foodie and loving it!
 Now that it is getting chilly, pasta is my go to meal, especially gnocchi. Gnocchi are the most delicious, soft pillows of potatoes that basically go well with anything. If you have other pasta on hand or don't like gnocchi feel free to use whatever pasta you like! However, let me sway you to the side of pillowy gnocchi. The soft texture pairs nicely with the crunchy pancetta. Also, make sure you don't overcook the gnocchi! It does not need to cook as long as regular pasta. I bought a brand I have never tried and it got super soft very fast so mine were a bit mushy, but honestly it tasted so amazing I didn't care!
Butternut squash reminds me of Fall because of its deep orange color and its earthy flavor.You could easily use various root veggies or even pumpkin. It also only requires one pot, which is always good for people who hate washing dishes! After work I really enjoy making simple dishes with huge flavor.
I love cooking with pancetta. It is just like bacon, just not smoked. Feel free to use bacon if you can only find that. I also use pre-chopped butternut squash so prep time was minimal. You literally throw pancetta and the squash on a sheet pan and put in the oven for about thirty minutes. While that is happening, boil the gnocchi in the last few minutes. The pancetta adds a good deal of oil ( as would bacon) so you don't need to add extra oil. If you like Fall and easy meals as much as I do, try this dish! You will love it!

Gnocchi with Pancetta & Butternut Squash
Ingredients:
1 package refrigerated or frozen gnocchi
1 small butternut squash, peeled and chopped into cubes
1/4 cup chopped pancetta
Parsley for garnish
Directions: 
1.Preheat oven to 350F.
2. Cube pancetta ad squash into small bite size pieces
3. Spread pancetta and squash out on a sheet pan and bake for 25-30 minutes
4. Meanwhile, boil gnocchi to package directions and drain when soft
5. Put Gnocchi into a large bowl and spoon squash and pancetta into the bowl ( including oil from the pancetta.) Toss and top with parsley.