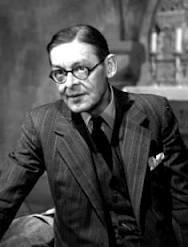 T.S. Eliot 1888-1965
Poet T.S. Eliot was born in Saint Louis 125 years ago today. He professed that  "Genuine poetry can communicate before it is understood." His genius for making that immediate connection with readers earned him great success.
Complex, dense poetry doesn't often garner widespread public popularity, but  The Love Song of J. Alfred Prufrock and The Wasteland certainly did.
In addition to his weighty works, he wrote some light children's verses. The poems that made up his Old Possum's book of Practical Cats were the basis for the musical Cats.
Here is a recording of Eliot (aka "Old Possum") reciting an excerpt from that work:
While Eliot was fond of cats, four years ago it came to light––through the unpublished poem below––that he had a certain good-natured contempt for cows.
Cows

Of all the beasts that God allows
In England's green and pleasant land,
I most of all dislike the Cows:
Their ways I do not understand.
It puzzles me why they should stare
At me, who am so innocent;
Their stupid gaze is hard to bear —
It's positively truculent.
I'm very inconspicuous
And scarlet ties I never wear;
I'm not a London Transport Bus,
And yet at me they always stare.
You may reply, to fear a Cow
Is Cowardice the rustic scorns;
But still your reason must allow
That I am weak, and she has horns.
But most I am afraid when walking
With country dames in brogues and tweeds,
Who will persist in hearty talking
And stopping to discuss the breeds.
To country people Cows are mild,
And flee from any stick they throw;
But I'm a timid town bred child,
And all the cattle seem to know.
But when in fields alone I stroll,
Oh then in vain their horns are tossed,
In vain their bloodshot eyes they roll —
Of me they shall not make their boast.
Beyond the hedge or five-barred gate,
My sober wishes never stray;
In vain their prongs may lie in wait,
For I can always run away!
Or I can take sanctuary
In friendly oak or apple tree.

©The Estate of T. S. Eliot