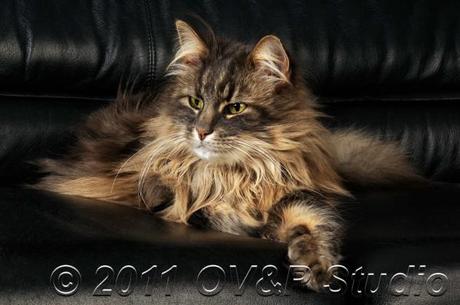 It's come to my attention that our beloved Jina's blog star status has been slipping, since I haven't posted photographs of her in a while. NOT acceptable, especially in light of what a beautiful (albeit small by usual standards) Norwegian Forest Cat she is! Thank you to fabulous Jamie at Musing by Moonlight for the heads up about this, as well as her inimitable cat, Gypsy, who blogs with her at The Cat's Meow

I figure it's particularly fitting to dedicate today's post entirely to Jina, because it also happens to be her 9th (in human years) birthday! That means that she's being spoilt with her favorite roast chicken breast and fresh-from-the-tin tuna (in spring water, no less), with a handful of cat "greenies" for good measure.
To prove that Jina holds a precious place in our home – and my heart in particular – I've selected two pics of her in typically close proximity to whatever we're up to. The pic above shows our princess taking her turn in the spotlight, during a recent modeling shoot that I was doing for lovely Nina Robertson (featured in my post IMTA Feedback + More Mine Dump Glamour).
Jina loves our studio, when we're at work there. She's a social soul, except where our German Shepherd Dog, Quest, is concerned. Much as he considers her his primary plaything, she wants NOTHING to do with it. Fortunately, he has Dave as a best buddy (see Move over BFF, we're talking MBF), leaving Jina and me with some special girl time. I love having her close, like curled up in her favorite daytime spot at my desk. Our frequent cuddle breaks give me as much pleasure as her purring suggests she enjoys.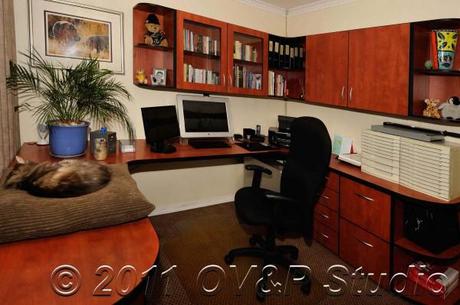 My home office, with Jina curled up right where she belongs
She's a consummate purrer, our Jina. Other than that, she's really quiet, but for a few exquisite, chirp-like meows when she's especially excited about a treat – or focussed on hunting something unsuspecting (she's a ruthless huntress). By the time she was six months old, we hadn't heard a peep from her and were worried that perhaps she didn't have a voice . . . until she got stranded on our roof and startled us all with an expert meow that got the message across: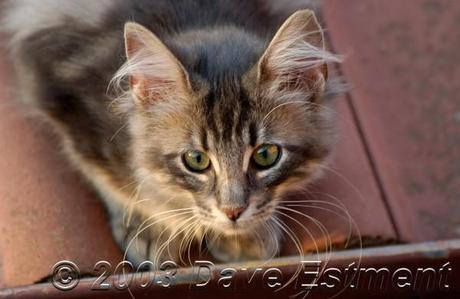 Baby Jina imploring us for a hand down from the roof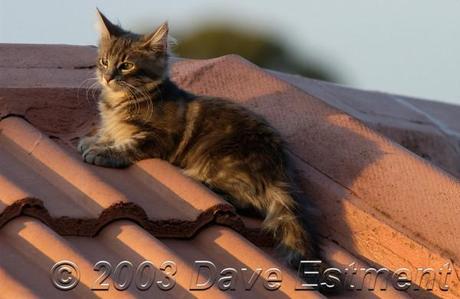 Jina as a kitten, soaking up a sunset on our roof
HAPPY BIRTHDAY, Jeanie Beans! Love you to bits, ever since the first glance into your gorgeous eyes!