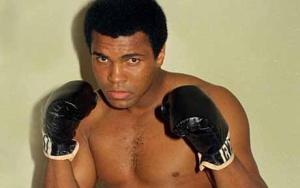 Born Cassius Marcellus Clay, Jr.; January 17, 1942, American legend Muhammad Ali turns 71 today.
Whether or not this trash talking boxing champion the father of Rap depends on who you ask. I don't think it matters.
When the World Heavyweight Champion makes a public appearance and the crowd starts chanting "Give us a poem!" there's rare magic in the air. Ask anyone old enough to remember his heyday and they're likely to quote one of his poetic pre-fight predictions. His words and wit delighted the American public. The verbal taunts he tossed off at his opponents were a sports promoter's dream.
When called on his constant braggadocio, he once said, "My way of joking is to tell the truth. That's the funniest joke in the world." With a boxing record like his, who'd dare to argue? But it wasn't just charisma and athletic talent that made Muhammad Ali a standout. He has always been a multifaceted, complex man; a controversial activist, a dedicated philanthropist and by his own definition, a poet. He also knew how to make us laugh.
Ali hung up his gloves in 1981, but he never quit fighting. In 1984, he was diagnosed with Parkinson's disease. In 1997, he established The Muhammad Ali Parkinson Center and he continues to make goodwill appearances around the world.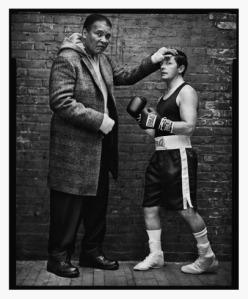 Parkinson's patients and activists: former boxing champion Muhammad Ali poses with actor Michael J. Fox.
"We have one life, it soon will be past
What we do for God is all that will last"