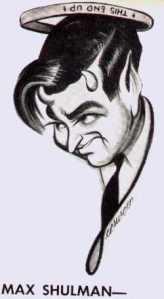 1919 – 1988
Ninety-four years ago today in the Jewish section of Saint Paul, Minnesota, writer and humorist Max Shulman was born. Growing up during the Great Depression is what he credited to fine-tuning his wit, wisdom and sense of humanity. In his own words, ". . . life was bitter and I was not. All around me was poverty and sordidness but I refused to see it that way. By turning it into jokes, I made it bearable."
Schulman is best known as the creator of the character Dobie Gillis, who first appeared in a series of short stories, followed by a popular television sitcom (142 episodes from 1959-1963) and later a Broadway play and musical. The Dobie Gillis stories follow an earnest, all American teenager as he pursues girl after girl. The variety and off-the-wall oddity of some of Dobie's crushes make the premise work and keep the stories fresh and fun. This character whose television incarnation, played by Dwayne Hickman, often sat in the park beside a copy of Rodin's "The Thinker" statue, and broke the third wall of theater by asking the audience philosophical questions. This sitcom was one of the first to explore the complex role of the American post-war teenager. Dobie's television sidekick, beatnik Maynard G. Krebs, played by actor Bob Denver represented the emerging counter-culture whose questioning and challenging the status quo led us into the tumultuous 1960′s.
Like Mark Twain and Booth Tarkington, Shulman's work captures young people's callow intensity of feeling in a way that makes us remember ourselves and laugh. Shulman's trademark is his tendency to pepper his scripts, novels and columns with farcical poetry–most notably, absurd lovelorn poems.
In a newspaper column, he once jokingly advised young men, "The standard way to melt a girl's heart is to write poetry about her….the range of the subject matter is endless. You can write a poem about a girl's hair, her eyes, her nose, her lips, her teeth, her walk, her talk, her clothes,her shoes––anything at all."
Here are a few preposterous examples:
I LOVE YOU

(by Dobie Gillis from "Love is A Science")

I love you with all my power,
I love you with all my might,
I love you at any hour,
I love you by day or night.

I hope we will soon be married,
But if I should die before,
See to it that I'm buried
Somewhere near your door.

Strew flowers on my grave humbly,
And heave a frequent sigh.
Though I grow gray and crumbly,
I'll always be your guy.
O, SPECKLED LOVE!

(By "Leda" from the novel "Anyone Got A Match?")

Sand between the lovers' toes
Recalls like thorns, the flawless rose.
Gritty, crunching in the shoes
Recollects, rejoices, rues
Untamed blood that starts the hearts
Till sand adheres to yearning parts.
Rasping flesh in grasping hand:
Abrasive love — pervasive sand.
Sorrow learns what bliss can teach
On the fierce and tender beach.
TO ELAINE

(by "Crip" from the novel "Potatoes Are Cheaper")

Elaine, Elaine oh sweet and fair
Thy creamy skin, thy gleamy hair,
Thy marble brow, thy sapphire eyes,
Thy secrets I can but surmise.

Oh, where hast thou thy treasure hid?
Oh, dare I hope to ope the lid?
Oh, let me ope it once Elaine,
Then let me ope it once again!
It has been said that the definition of Youth is life yet untouched by tragedy. If Shulman's work is a barometer, this bears out. Time will march on, but as long as we can truly recall the way we felt when we were young––and remember to laugh––we stand a chance to age gracefully.