Happy Birthday to Jose Luis Chilavert who has turned 47 today.
Unfortunately his birthday has been overlooked due to some other events going on in the world but he should not be forgotten!
The former Paraguay goalkeeper was named world keeper of the year 3 times and has one more international goal than Emile Heskey (though to be fair unlike Heskey he was a free kick specialist!)
In 1997 he even got sent off for brawling with a player. What a man!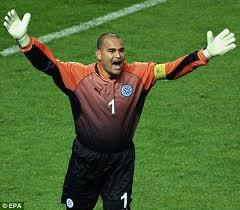 Judging from this picture, he might have quite a good birthday!