By me as first published on  http://worldfootballweekly.wordpress.com/ 
'Big Kev' and his penalties.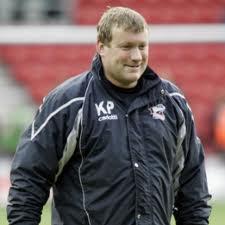 Fat goalkeeper Kevin Pressman is somewhat of a Sheffield Wednesday icon having played 478 games for the Yorkshire club and was renowned for his penalty saving and scoring.
Pressman made his debut way back in 1987 for the Owls against Southampton. He had forced his way into the team but faced an eight month injury lay off after a knee-ligament injury in January 1990. After his injury Pressman missed out on some huge matches for the Owls – including the 1991 and 1993 League Cup finals as well as the 1993 FA Cup replay and final against Arsenal. Pressman however became a mainstay in Wednesday's Premier League team after this initial disappointment gracing the Premier League for many years. Many said that he was one of the best keepers in the League at the time despite his hefty size.
The goalkeeper is also well loved for his penalty heroics in the FA Cup against Watford in 1998 when he scored the winner to send his beloved Wednesday through to the next round. He also scored an absolutely outstanding penalty for Wednesday against Wolves in the Cup in 1995 that any great penalty taker would be proud of.
Amazingly his eventful career say him red carded after just 13 seconds in a game for Sheffield Wednesday against Wolves in August 2000.
His penalty antics and terrific saves mean he has seemingly a Sheffield Wednesday legend with some of their fans giving me their views about the big goalie on twitter.
Daniel Jessop on twitter said: "MASSIVE, shot stopper and awesome penalties!"
And Ash Kitson told me that Pressman was an "absolute legend of a keeper at Wednesday" and he will never "forget his penalty against Watford in the FA Cup and he is a true gent too!"
Simon Whittaker said he was "the best penalty taker ever" and Laura Jones told me on twitter that "Kevin Pressman may have filled the net but he could take a penalty better than Chris Bart Williams."
David Bly also told me that Pressman "would have played for England had he played for a more fashionable club." And that "His performance at Spurs in the 1993/1994 season was one of the best in football history!"
Richard Reaney said that Pressman was the "greatest keeper," he had seen at Hillsborough and that he "could smack a pen like no other!!"
And lastly Richard Holliman told me that Pressman would come into the Mcdonalds where he worked at least 3 times a week for breakfast.
Pressman left the Yorkshire club in 2004 and then played out the rest of his career rather nomadically. A 15 game spell at Leicester followed by spells at both Leeds and Coventry where he didn't play saw Pressman through to 2005. He had spells at Mansfield Town, Portadown and Scunthorpe United before retiring in 2009.
Pressman was once voted Sheffield Wednesday's best ever keeper, a title he seems to deserve and has recently moved into coaching. He was an assistant manager at Scunthorpe and at the beginning of the 2011 season Pressman stepped in to become goalkeeper coach at League 2 Bradford.
AP