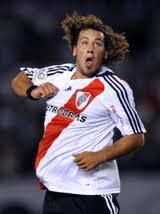 From: http://worldfootballweekly.files.wordpress.com/2012/04/wfwpreview3.pdf
SKILL, SCANDAL and (Lipo)SUCTION
As Alan Davies once said "There are two types of footballers in Argentina. There are the skillful ones and the murderers." Well, it seems Cristian Fabbiani fits somewhere in between.
Nicknamed El Ogro (The Ogre) Fabbiani is a real journeyman having played in Chile, Israel, Romania and of course Argentina. Starting his career at Lanús in Argentina in 2001 the rather large striker had loan spells at Palestino and Beitar Jerusalem.
2007 saw a move to CFR Cluj of Romania for the Argentine where he won the League and Cup double in the 2007/2008 final.  However he did spend 2 years of his 3 year spell at Cluj on loan at Newell's Old Boys and Argentine football giants River Plate. At River Plate he was even told to lose weight by manager Nestor Gorosito .Seemingly his weight has never really held him back with South American football expert Rupert Fryer giving this account of the striker that underlines his raw talent:
"Last time I saw Christian Fabbiani in all his flesh was on a scorching afternoon in Floresta during his stint with All Boys. Battling relegation and 2-1 up at home to Estudiantes, El Ogro came off the bench for the final ten minutes. My friends and I had big of a giggle as he waddled on; we had another a couple of minutes later when he shuffled into the corner and placed his wide frame between an opposition player and the ball.
 Then the laughter stopped…
 With a swift twist of his big hips, Fabbiani span the defender, flicked the ball up into the air and launched a ferocious volley from an impossible angle that skimmed Agustin Orion's crossbar. It was an instant reminder of the remarkable talentthat Fabbiani has showed all too intermittently throughout his career. His talent has never been in question: you have to be pretty bloody good to weigh 16 stones and still be playing for River Plate."
Unfortunately Fabbiani has to a large extent marred his career with his off the field antics. At one point "Ogro-mania" was sweeping Argentina with some people calling for his inclusion in the national team yet after being dropped at River Plate his stock soon fell.
The hefty striker may be a journeyman but he's no Steve Claridge with Fabbiani being a hugely controversial figure. El Ogro is now known across Argentina for his poor treatment of women, a trait that is becoming all too common in world football. He fathered a child with actress Amalia Granata before a scandalous relationship with model Victoria Vanucci. Fabbiani was rumoured to have acted violently towards his wife prompting her to appear in a photo-shoot posing with blood stained clothes. He has also been accused of inappropriate behavior in night-clubs although Fabbiani felt he has been "persecuted by the press."
In January 2010 Fabbiani got himself caught up in a row with television presenter Jorge Rial. After Rial had questioned how Fabbiani was able to obtain a Hummer as a gift for his wife. The gigantic  striker responded with "He's a wimp, a coward. That's why he can't have children, because he is a coward."
Despite being unknown in England Cristian Fabbiani has become a mainstay over the front and back pages in Argentina. The bundles of talent possessed by this football fatty have never been in doubt, as shown by Rupert Fryer's account of the star. El Ogro's weight has only played a small part in the failings in his career. The 'big man' weighs 97kg, even after having liposuction in 2010. Unfortunately the evils of fame, fortune and footballing inconsistency mean Fabbiani has never truly reached his peak.
Shrek may provide the basis for his nickname, though Fabbiani's rise and fall would not look out of place in a blockbuster.
AP