It's been 15 years since "Hanging by a Moment" exploded for Los Angeles based rockers Lifehouse. On Tuesday the band returns with their 7th studio album Out of the Wasteland. I had a chance to preview to the album for the past week, thanks to Sony Music Canada, and it's easily one of the strongest offerings by the band in their 15 year history.
Out of the Wasteland (May 26, 2015), is available for pre-order on iTunes featuring two exclusive tracks plus fans who pre-order the album on iTunes will receive instant downloads of " Hurricane," " Flight" and " Wish," Press Here.
Out of the Wasteland is the work of a group that has some history. Los Angeles-based Lifehouse broke through in a big way when "Hanging by a Moment," from their début album No Name Face, spent 20 weeks in the Top Ten and won a Billboard Music Award for "Hot 100 Single of the Year." Since then, the band has released five more albums, sold over 15 million records worldwide and spun off such hit singles as "You and Me," "First Time," and "Whatever it Takes." Lifehouse is one of the most played artists in the history of Hot AC with 1.5 million spins and over 1.4 Billion Pandora Plays to date.
LIFEHOUSE will be making one Canadian stop with a concert opening for Nickelback on July 23rd in Ottawa at the Canadian Tire Centre. Be sure to catch them.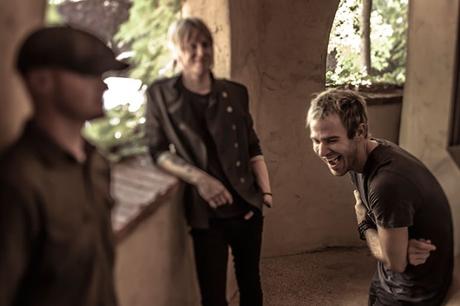 We had a chance to talk to lead singer / songwriter, Jason Wade on Friday. We talked about the new album, the tour and more.
SC: Want to start by thanking you for taking the time to chat this morning.
It's been about 15 years now since Lifehouse exploded onto the international music scene with No Name Face. You and the band are coming back from a short self-imposed hiatus to regroup and are releasing your 7 th studio album, Out of the Wasteland, on Tuesday.
Back in July 2013 when you announced to your fans that Lifehouse would be taking a break you said (talking about the split with Geffen), and I quote "With this new freedom has come a new sound that doesn't really reflect the band's previous work." Out of the Wasteland is clearly a return to the sound and style that we heard out of Lifehouse back in the days of No Name Face. What did you as an individual and as an artist have to do over the course of the 6 months, or so, that you took off to get centred again and put together the album now known as Out of the Wasteland, one that many critics are calling Lifehouse's best album yet?
Jason Wade: I think in this particular instance, you know, unplugging from the touring cycle that we, you know, we toured relentlessly for 12 years and that can really start to wear you down after a while especially when you get back from a long tour and are expected to make a new record, you know, so unplugging from the touring side of things was really vital for all of us to regroup and find that spark that is so important when you're in the studio. So going back into the studio for a good two years was definitely different for us, you know, so I just wrote, I wrote without thinking, you know, songs in a lot of different genres. I wasn't really trying to do anything, I was just, I was trying to feel something, you know, from the music. I was trying to forget about all the business aspects when it comes to radio and, you know, record sales and all that white noise and just focus on the simplicity of writing, writing a good song with a good lyric, you know, and at the end of the studio process we had over 65, 70 songs to choose from and that's how we put the record together.
SC: So there is quite the process involved. I've listened to Lifehouse since, pretty much, the beginning. There's songs from 10-15 years ago that maybe I had forgotten about, and hadn't heard in a while, and when I listened to it again I recall that Hey I really like that song. The funny thing is that when people talk about Lifehouse, even when I told family and friends about this interview, they always say "Hey those are the guys that did that song "Hanging by a Moment""
Jason: Haha Right
SC: It's a big song, when you look at it from and actor's perspective and you hear about them being typecast. You know like the cast of Harry Potter, as an example, most of the actors will never play another role that's not like that.
Jason: Right Ya
SC: I guess for a musician it's similar in the sense that you guys will always remembered as the band that did "Hanging by a Moment", and I recall reading in another interview that you guys had done where you actually mentioned that Much Music, here in Canada, had the song on their one hit wonder segment and had to remove it because you are actually NOT just a one hit wonder, you've actually recorded so many great songs that performed really well on the charts. What is that like? Are you guys cool being recognized as the band that did "Hanging by a Moment" or is there another song that you have written and recorded that you would rather be remembered by?
Jason: I think it's natural, you know, for people to always go back to your first success so we don't really take it personally. If anything we look at that song as kind of a catalyst that lets a lot of people hear our other music. If it wasn't for that song no one would even know who we are and they wouldn't listen to any of our others. At this point, putting out 7 records, so we've got a lot of songs out there but we owe a lot to that song because it put us on the map.
SC: Let's talk about touring, I've talked about this with a lot of other artists as well. Its part of the game but it takes you away from your family for long periods of time. Now you guys have toured all over the world and surprisingly when I looked back I could only find a handful of visits to Canada and even on your upcoming tour you only have one stop and it's in Ottawa this July. Is there a reason you have avoided Canada or have you just not had the opportunity to come up here more often?
Jason: We just haven't had the opportunity, we run everything through our agency CAA and they are the ones that get all the offers for us but I have a feeling we'll be coming back, they are working shows in Europe right now so I'm assuming we'll be making a headlining run through Canada probably next year at some point, but um, everytime we've come, we played at the Calgary Stampede a couple times over the years and it's just a blast. Our bass player is actually from Canada and he always [chuckles] always complains that we don't go there enough.
SC: [laughing] well at least you have that Canadian connection which helps. Still on the topic of tours you're about to go on the road with Nickelback. I'm a fan, I have to admit, I'm a fan but this is a band that, for some reason, the world loves to hate but somehow they still manage to sell out stadiums all around the world. Was just reading today that, while they are touring Australia, the Australian police released a wanted poster featuring Nickelback saying that they are wanted for crimes against music. Have you guys met Chad Kroeger and the boys before? How did the tour come about?
Jason: We played 10 shows with Nickelback in the early 2000's, I want to say 2000, 2001, before they blew up with "How Your Remind Me" and what I remember of them was just that they were a great live band and really nice guys too. I haven't seen them for 15 years so I'm really looking forward to seeing those guys again. I don't think they probably listen too much about what people are saying about them, I think they are laughing all the way to the bank and they're still crushing it.
SC: Ya I agree, and I think it falls into the category of there's no such thing as bad publicity. I mean both Chad and Avril's relationship has been the talk of the tabloids who like spreading rumours but I guess you can look at it in the sense that the more people are talking about you you must be doing something right. Now in your travels do you have a favourite place that you have performed? Maybe a venue or a city? or is there a place on your tour bucket list that you've always wanted to play that you haven't had the chance yet?
Jason: Umm ya, probably the Gorge which we are playing with Nickelback, I think our first show in Washington State. I'm from Washington State and I've never seen the venue before, I've seen pictures but it's, it's just supposed to be just stunning and acoustics are supposed to be amazing so I'm really looking forward to playing at the Gorge.
SC: Cool, sounds like it's going to definitely be a great show. Especially if you are kicking off this new tour and promoting this new album. Just a general question now, I'm sure you've heard the discussions and the conversations about streaming media like sites like Spotify and Rdio and the effect they have had on the music industry. What side of this debate are you on?
Jason: Ah it's tough, it's really hard for artists to make a living with the royalties that not only Spotify pay but also, umm but also YouTube. You know, I think that since no one is selling records anymore and everyone is saying just get your music out there and hopefully people will come and see you live there are so many artists that are just struggling out there to pay their bills, you know, and it makes it really difficult with the amount of royalties generated from Spotify. I would like them to make it more fair for all of the artists, not just the top 5 artists.
SC: Fair enough, let's talk about your influences. Music is influenced by music and I find being a fan of music in general that's not genre specific, I've spoken to rock artists that are inspired by country artists and country artists inspired by rock artists etc. Have you ever heard a song when you're driving or in the store somewhere and suddenly felt "hey I like that sound I want to write something like that?" Who are your biggest influences?
Jason: Ah, I'd have to say Nirvana, the Beatles; Elliott Smith was a huge inspiration to me when I was 17 years old, and still is, I think his record XO was probably one of the most beautiful albums I've ever heard so I'd have to say those are the three artists that really had a big impact on my music at an early age.
SC: You have toured and worked with some of the biggest names in music if you could collaborate with anyone living or dead who would you pick?
Jason: How about, ah, Paul McCartney would be amazing working with him would be just a great experience, probably the other band would be, ah, Coldplay would be awesome. I'm a huge Coldplay fan.
SC: What can fans in Ottawa expect from a Lifehouse show, it's been about 10 years since you were last here so what can they expect on July 23 when you are here with Nickelback?
Jason: Well our set's going to be a little bit shorter, obviously, because we're opening but we're going to try to put a couple of the new songs in but obviously focus on the songs everybody wants to hear that they're familiar with, you know, so it's going to be a very fan friendly show so it's not like we're going to be playing all deep cuts and none of the hits, you know, so we're going to try to cram in as much music as possible in a 45 minute set.
SC: I am definitely looking forward to it. Thank you for taking the time out, I know that you're really busy and best of luck with the new album.
Jason: Thank You
The lead single from Out of the Wasteland is called "Hurricane" here is the official video.
Special thanks to Jason Wade for taking the time to chat with me and thanks to Sony Music Canada for setting it up. For more information on Lifehouse and other dates on their upcoming world tour visit www.lifehousemusic.com and be sure to like them on Facebook and follow them on Twitter and Instagram.

Field Service Tech by day, Live Music Nut by night! Founder of Sound Check Entertainment! Love hockey Habs, Sens & anyone playing the Leafs!