Yesterday we posted our Mason Jar Session with Warner Music Canada recording artist Aaron Goodvin. Today we follow that session up with a great chat we had with one Canada's brightest emerging country artists. Having spent the last few years writing in Nashville, Aaron has honed his songwriting skills and is set to release his debut album April 8th. Here is our hang with Mr. Goodvin, enjoy.
And don't miss Aaron's Mason Jar Session for Knock On Wood below.
Follow me on Twitter @CoreyKelly76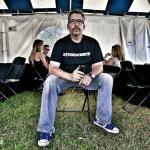 Well if your reading this you must really be bored... So I was born and raised in a small town and have a thirst for good Canadian Whiskey and amazing Country Music.